AJA Kona 4 Powerful Integration. Professional Connectivity.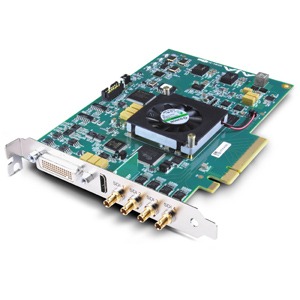 Product Code: KONA4


Features of Kona 4
KONA 4 is a powerful 8-lane PCIe 2.0 video and audio desktop I/O card with unparalleled features for handling everything from SD to HD, 2K and 4K with full 10-bit 4:2:2 and 4:4:4 sampling for fantastic image clarity and 12-bit support*. For HDR workflows, KONA 4 supports HDR 10 and HLG* for rich color delivery over HDMI. KONA 4 has the power for the work you do today and into the future.

Professional Connectivity
KONA 4 features bi-directional 3G-SDI connections that can be used for input and output. 16-Channels of embedded audio over SDI for multi-channel audio work and HDMI 2.0b monitoring output. LTC I/O, Genlock input, RS-422 control, configurable 3 x BNC SD/HD analog video output and 8-channel AES audio I/O with the K3G-Box all allow KONA 4 to integrate into a variety of workflows from HDR to HFR, 4K to Multi-Channel HD for streaming and more.

HDR
HDR or High Dynamic Range, provides the ability to display a wider and richer range of colours, much brighter whites, and much deeper, darker blacks than standard signals allow. This gives your imagery a more 'dynamic' look and allows for natural true to life colours to be communicated to your audience.

KONA 4 provides this support for your 4K/UltraHD/2K and HD HDR pipelines to HDMI compatible displays in software v13 by offering HDR10 support with HDR 10 Infoframe metadata, in accordance with HDMI 2.0a/CTA-861.3 and HLG support on applicable HDMI displays. Desktop Software v13 introduces HLG support over HDMI for the latest versions of Adobe Premiere CC.

Apple Mac Pro Compatible
AJA offers full compatibility for the new Apple Mac Pro, including support for AJA Control Room with Metal compatibility as well as extensive support for a range of applications.

For productions handling high resolution workflows all the way up to 4K, KONA 4 is a perfect video and audio I/O companion.

High Frame Rate support
KONA 4 has the power to support 4K High Frame Rate (HFR) at 50p and 60p for the most demanding 4K and UltraHD workflows.

4K HDMI output
The HDMI output is capable of displaying 4K/UltraHD via HDMI to many of the latest UltraHD monitors, making full-resolution monitoring affordable while stil maintaining pristine image quality.

AR support with Unreal Engine 4.22
Capture real time footage with KONA 4 over SDI from high quality cameras, meld your footage with your virtual environment created by the Unreal Engine and send it back out in real time to air - a growing need for broadcasters, augmented reality (AR) needs and more.

Digital film makers also benefit with these new workflows: On set, enhance your live action VFX work with the ability to see a full composite live during the course of the shoot. This results in fewer reshoots, the ability for actors to understand the virtual environment they are working within for stronger performances and ultimately leads to a range of efficiencies and cost savings with the added benefit of a smoother transition into post production.