---
7% Goods Service Tax (GST) will be imposed over the total invoice value if purchased locally in Singapore. However if you are a tourist visiting Singapore, this GST amount can be refunded at the Changi International Airport Departure Hall / Seletar Airport Passenger Terminal / Marina Bay Cruise Centre Singapore/ International Passenger Terminal at Harbourfront Centre GST Refund Centre before departure with goods within 2 months from the date of purchase. Please note that only Tourists who have met the Tourist Refund Scheme's conditions and eligibility criteria can claim for the GST refund. Please visit: https://www.iras.gov.sg/IRASHome/GST/Consumers/Tourist-Refund-Scheme/ for GST Guide for Visitors on Tourist Refund Scheme.
DataVideo TP-100 Smart Phone Teleprompter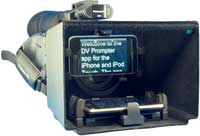 Product code:TP100




The Datavideo Smart Phone Prompter Kit, TP-100, is designed to help you overcome these problems by converting a smart phone (not supplied) into a low cost and effective prompter. Perfect for self shoot projects, video blogging or corporate video podcasts.

The Datavideo Prompter Kit for Smart Phone allows it to be used both on location and in a video studio. Prepared scripts or cue sheets can be easily loaded into the smart phone software from email and scrolled at a set automatic rate or controlled by a user with the wired remote for a more natural result.

A number of clear fonts, colours and text sizes are available making reading comfortable from a variety of distances.


Features
• Simple software and wired remote allow users to produce professional results at low cost
• Special 60/40 Glass allows the presenter to read the script and the camera to see the subject
• Strong and rigid camera hood fi xes securely to a wide variety of camcorder lens threads
• Supplied Hood and stepping rings allow compatibility with a wide range of existing cameras
• Quick and simple set up assembly requires no special tooling
• Smart phone cradle in the prompter hood adapts to grip various sizes of device
• Three meter long wired remote control is perfect for self shoot projects