---
7% Goods Service Tax (GST) will be imposed over the total invoice value if purchased locally in Singapore. However if you are a tourist visiting Singapore, this GST amount can be refunded at the Changi International Airport Departure Hall / Seletar Airport Passenger Terminal / Marina Bay Cruise Centre Singapore/ International Passenger Terminal at Harbourfront Centre GST Refund Centre before departure with goods within 2 months from the date of purchase. Please note that only Tourists who have met the Tourist Refund Scheme's conditions and eligibility criteria can claim for the GST refund. Please visit: https://www.iras.gov.sg/IRASHome/GST/Consumers/Tourist-Refund-Scheme/ for GST Guide for Visitors on Tourist Refund Scheme.
Datavideo CCU-100 Camera Control Center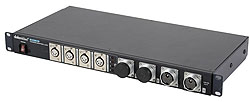 Product Code: CCU100

The CCU-100 is a camera control unit which is typically part of a live television broadcast "chain."

It is responsible for powering the professional video camera, handling signals sent over the All in one camera cable (CB-49) to and from the camera and can be used to remotely control various camera parameters such as iris.

The system simultaneously transmits digital SDI and analogue signals as well as camera control, look back, camera view finder data, tally and intercom call signals between professional cameras and the switcher system.

CCU-100 and AD-2 form an integrated solution that allows you to get things done fast, easy and within budget.
• Camera control unit
• Connection between CCU-100 and up to 4 AD-2's to control 4 cameras
• Remote control of camera functions
• HD/SD SDI video transmission from digital camera
• Return colour view finder / monitor video
• Return look back video signal
• Two-way headset intercom
• Tally Support
• Power Supply
• Ethernet Port for Remote Control
• Includes: 4 x AD-2 Multi Transmission Adaptor Box & 4 x RMC-240 Remote Controller
Related Products
| | | | |
| --- | --- | --- | --- |
| | | Image Not Available | Image Not Available |
| Product Code:AD2P | Product Code:AD2S | Product Code: CB-43 | Product Code: CB-44 |
| AD-2P | AD-2S | CB-43 | CB-44 |
| Multi Transmission Adaptor box for CCU-100P | Multi Transmission Adaptor box for CCU-100S | All-in-one cable for CCU-100 (30 meters) | All-in-one cable for CCU-100 (50 meters) |
| | Image Not Available | | |
| Product Code: CB-45 | Product Code: CB-49 | | |
| CB-45 | CB-49 | | |
| All-in-one cable for CCU-100 (80 meters) | All-in-one cable for CCU-100 (50 meters) | | |