---
7% Goods Service Tax (GST) will be imposed over the total invoice value if purchased locally in Singapore. However if you are a tourist visiting Singapore, this GST amount can be refunded at the Changi International Airport Departure Hall / Seletar Airport Passenger Terminal / Marina Bay Cruise Centre Singapore/ International Passenger Terminal at Harbourfront Centre GST Refund Centre before departure with goods within 2 months from the date of purchase. Please note that only Tourists who have met the Tourist Refund Scheme's conditions and eligibility criteria can claim for the GST refund. Please visit: https://www.iras.gov.sg/IRASHome/GST/Consumers/Tourist-Refund-Scheme/ for GST Guide for Visitors on Tourist Refund Scheme.
Datavideo PTC-120 Remote Controlled 1080p Camera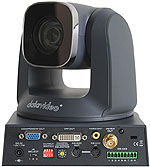 Product Code: PTC120

Discontinued

PTC-120 can be mounted almost anywhere - to a wall, ceiling, floor, table-top, or even clamped to a ladder. The PTC-120 has enough presets to suit a wide variety of uses. That means that each member of the city council can have their own pre-configured setup, each medical procedure can be rehearsed and positioned, the major positions of a stage play can be set, or each part of a major product can be targeted for technical support or production instruction.

PTC-120 can be remotely controlled with the included "tv remote" style controller or with the ergonomic Datavideo RMC-190.
• Versatile Mounting
PTC-120 is small and light enough to be mounted almost anywhere.

• 1080p Shooting
PTC-120 offers native 1080p support and outputs to DVI, Composite, and Component Video simultaneously.

• Locking Power Connector
The power connector locks into place to help avoid accidental disconnection.

• VISCA Serial Control
Use Datavideo's RMC-190 or other controllers to control the PTC-120 camera.
Image Device
Sony CMOS Sensor + Canon Lens
Zoom: 20x Optical / 12x Digital
Focal Length: 4.7mm ~ 94mm
Simultaneous Video Output
1x 3G-SDI
1x DVI-D
1x Composite
1x Component
Video Resolutions
1080p 60/50 (4:2:2)
1080p 30/25
1080i 60/50
720p 60/50/30/25
Zoom
20x Optical Zoom
12x Digital Zoom
Controls

Included "tv style" wireless IR remote
Compatible with RMC-190 table-top joystick remote
Pan 340 degrees / Tilt 120 degrees
RS-232, RS-422, VISCA
Up to 128 user-defined presets
Automatic Iris Control
Typical Applications
Municipal meetings with live webcasts
Overflow rooms
Local theatrical productions with live webcasts
What's in the Box

PTC-120 HD Camera
"TV Style" Controller (PTC-120 also compatible with RMC-190 Controller (sold separately))
Power Adapter and Cord
Mounting Brackets with Screws