---
7% Goods Service Tax (GST) will be imposed over the total invoice value if purchased locally in Singapore. However if you are a tourist visiting Singapore, this GST amount can be refunded at the Changi International Airport Departure Hall GST Refund Centre before departure with goods within 60 Days from the date of purchase. Please note that only Tourists who have met the Tourist Refund Scheme's conditions and eligibility criteria can claim for the GST refund. Please visit: https://www.iras.gov.sg/IRASHome/GST/Consumers/Tourist-Refund-Scheme/ for GST Guide for Visitors on Tourist Refund Scheme.
Datavideo TP-500 DSLR Prompter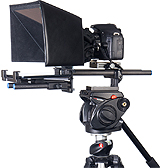 Product Code: TP500


TP-500 Overview:
The Datavideo TP-500 Prompter Kit can be used on location, or in a video studio. Prepared scripts or cue sheets can be easily copied and pasted into the DV prompter app software from email and scrolled at a set automatic rate or controlled by a user with the wired/wireless remote (not included) for a more natural result. A number of clear fonts, colours and text sizes are available making reading comfortable from a variety of distances.
Features of TP-500:
• Simple software and remote (remote not included) allow users to produce professional results at low cost
• Special 60/40 Glass allows the presenter to read the script and the camera to see the subject
• Strong and rigid prompter frame fixes securely to any standard tripod quick release plate
• The prompter frame is designed to allow stand alone, in front of camera lens prompting
• The black cloth lens snood is adjustable to adapt for a wide variety of camera lenses
• Quick and simple assembly that requires no special tooling
• Expandable mounting bracket system allows simple but secure installation of tablet computer
• An optional remote control is also available (additional purchase)
• Optional hard carrying case available - HC-500