---
7% Goods Service Tax (GST) will be imposed over the total invoice value if purchased locally in Singapore. However if you are a tourist visiting Singapore, this GST amount can be refunded at the Changi International Airport Departure Hall / Seletar Airport Passenger Terminal / Marina Bay Cruise Centre Singapore/ International Passenger Terminal at Harbourfront Centre GST Refund Centre before departure with goods within 2 months from the date of purchase. Please note that only Tourists who have met the Tourist Refund Scheme's conditions and eligibility criteria can claim for the GST refund. Please visit: https://www.iras.gov.sg/IRASHome/GST/Consumers/Tourist-Refund-Scheme/ for GST Guide for Visitors on Tourist Refund Scheme.
DataVideo LD-1 Dual Colour LED Chromakey Light Ring, Control Box and Adapters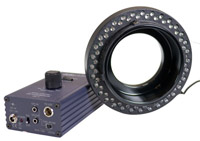 Prodcut Code:LD-1


Overview:
The Datavideo LD1 is a Dual Colour Light Ring and LED controller for Chroma Key Studios.

It is intended for use with a Retro Reflective Backcloth such as Datavideo RF1025FP.

It can be used in conjunction with the Datavideo DVK-200 and offers automated switching.

Using a light ring differs slightly to conventional chroma keying.

Unlike conventional Chroma Key Studios it is not necessary to light the backcloth, in fact it is better not to.

It is best to have the camera between 3 and 7 metres from your subject, and your subject at least 1 metre from the backcloth. Providing some backlight on your subject will generally improve the keying effect, but you can play around with your light set up to get the required feel to the shot.

Features:
• Light ring switchable from Blue to Green
• Dimmer control included
• Make beautiful chroma keys with the little attention tobackground lighting