---
7% Goods Service Tax (GST) will be imposed over the total invoice value if purchased locally in Singapore. However if you are a tourist visiting Singapore, this GST amount can be refunded at the Changi International Airport Departure Hall / Seletar Airport Passenger Terminal / Marina Bay Cruise Centre Singapore/ International Passenger Terminal at Harbourfront Centre GST Refund Centre before departure with goods within 2 months from the date of purchase. Please note that only Tourists who have met the Tourist Refund Scheme's conditions and eligibility criteria can claim for the GST refund. Please visit: https://www.iras.gov.sg/IRASHome/GST/Consumers/Tourist-Refund-Scheme/ for GST Guide for Visitors on Tourist Refund Scheme.
DataVideo DVK-200 Stand Alone Chromakey Solution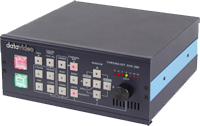 Product Code: DVK200



The Datavideo DVK-200 is an easy to use stand alone chromakey solution enabling you to create stunning virtual studio effects without the need for complicated computer software.

With the DVK-200 you can connect a range of video and computer equipment, including DVI, Y:U:V, S-Video (Y/C) and Composite Video, keying with either blue, green, white or black backgrounds. Backgrounds sources can be either S-Video (Y/C), Composite Video or DVI.

Together with Datavideo's CKL-200, dual colour (green & blue) LED lighting ring and retro-reflective backdrop cloth, the DVK-200 is the perfect partner for keying the easy way.

Ideal use for applications within education, small studios, wedding videographers and many others.

Features:
Choice of Blue, Green or Luminance keying
Advanced key adjustments, for perfect keying
Video inputs from; Y:U:V / DVI-I / S-Video or Composite Video
Background inputs from; S-Video, Composite Video or DVI
Window size adjustment - remove unwanted items from the foreground image
Built in colour processor for adjustment of, brightness, contrast, colour and tint (tint is NTSC only)
RS-232 control interface for easy integration