Clearcom Analog Partyline Intercom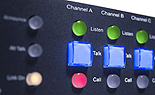 Clear-Com Encore™ Partyline Systems offer unsurpassed 2-wire, group communication capabilities. This platform offers an intuitive plug-and-play design, superior audio clarity with the embedded "Clear-Com Sound", and reliable communication technology for the most demanding applications. Trusted by thousands of audio experts around the world, Clear-Com Encore analog partyline systems are the communication backbone in theatres, schools, local broadcast stations, churches and other small to mid-size live productions

Partyline Intercom Products
Main Stations
Wired Beltpacks
Power Supplies

Two- or four- channel rack-mount or portable main stations for talk, listen and call operations with built-in fail-safe power supply, internal speaker, microphone and headset connections. Up to 40 user beltpacks can be supported.
CS-702, MS-702, MS-704, SB-704, RCS-2700, RCU-67

Housed in a light-weight and ergonomically-design casing, the RS-Series beltpacks are engineered to withstand the demanding day-to-day use even in high-intensity situations. Functions are easily customizable and accessible with simple-to-use straightforward operations.
RS-701, RS-702, RS-703

Encore Power Supplies deliver sufficient power to support one to four channels of intercom, up to 40 beltpacks, 10 speaker stations or 12 headset stations.
PK-7, PS-702,PS-704

Remote Stations
Wall-Mount/Speaker Stations
Interfaces

One- or four- channel rack-mount remote systems for talk and/or listen operations on either or both channels. Systems are powered by intercom line. Up to 40 user beltpacks can be supported.
RM-702, RM-704




System interfaces enable Encore to connect with external audio sources such as 2-way radio/ walkie-talkie, 4-wire audios, telephone, TV cameras, and more.
AC-701, TW-12C, IF4W4, EF-701M, TW-47,
TWC-701, TWC-704

Que-Com
Wireless IFB Intercom

An economical partyline communication system, featuring a wide frequency response and high audio output.
SMQ-1, DMQ-2

Wireless IFB (interruptible fold back) systems operate between 537.600 and 767.900MHz. They are used for talent cueing and crew communications in broadcast and motion picture production.
PRC-2, PTX-3

IFB system sends one of two program audio signals to individual Talent Receivers via standard, two conductor shielded mic cables, allowing Talent coordinators to interrupt the program and cue talent
AB-120, AX-704, MA-704, PIC-4704, TR-50, TS-1



Accessories
Headset and other accessories

Compatible intercom outlet wall plates, call signal flasher, isolator PCB for partyline system
FL-7, MT-1, WP-2, WP-6



Versatile range of headsets, handsets and microphones that are designed to give excellent audio quality, comfort and ease of use to suit every need.