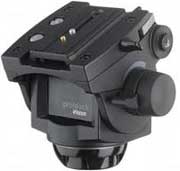 Product Code : PRO-6HDV Pan And Tilt Head
Overview
Pro-6HDV Pan And Tilt Head
The Pro-6HDV is the new lightweight, high performance pan & tilt head from Vinten, ideal for supporting the latest range of small professional HDV & SDV camcorders in use today.

The continuously variable fluid pan and tilt drag combined with the stepped counterbalance can handle camera systems up to 6kg (13.2lbs) ensuring that this lightweight head provides smooth movement and complete camera control.

The Pro-6HDV is available as an off the shelf head or incorporated into two lightweight systems [see Systems for more details].
6kg (13.2lb) maximum capacity
Stepped counterbalance (3 steps plus zero)
Top entry "sideload" rapid camera attachment
Illuminated level bubble with "low battery" indicator
Specification
Part No.: V4018-0001
Capacity: Max. 6 kg / 13.2 lbs @ 55 mm / 2.2 " C.ofG.
Weight: 2.2 kg / 4.8 lbs
Tilt Range: +90° -60°
Pan Range: 360°
Counterbalance: Selectable 3 steps plus zero
Pan & Tilt Drag: Infinitely adjustable
Camera Fixing: Quick attachment and release Sideload system, utilising a standard slide plate complete with 3/8" and 1/4" camera screws with locating pin.
Ball Base: 75 mm
Levelling Bubble: Illuminated with low battery indicator
Pan Bar: Single fixed length