Matrox MXO2 Mini for Mac
Matrox MXO2 Mini gives you all the features of a high-quality capture card and a breakout box in one very affordable little device. It's also available with the Matrox MAX option for faster than
realtime H.264 file encoding to turbo charge your deliveries to Blu-ray, the web, and mobile devices.

Matrox MXO2 Mini provides a cost-effective HD monitoring solution for Avid editing systems.
Key Features
Small, lightweight, external box that's easily connected to your cameras and monitors
Works with Intel-based MacBook Pros, Mac Pros, and Apple Xserve systems
Broadcast-quality HD/SD video and audio input/output
– Capture high definition video via HDMI and analog component
– Capture NTSC and PAL via analog component, S-Video, and composite
– Playback high definition video via HDMI and analog component
– Playback NTSC and PAL via HDMI and analog component or HDMI,
S-Video, and composite
– Output HD and SD video simultaneously
– Stereo RCA and up to 8 channels of HDMI audio input and output
– 5.1 and 7.1 surround sound monitoring on the HDMI output
A variety of free software tools are included with every Matrox MXO2 device.
Matrox Vetura Capture and Vetura Playback for Mac and Matrox A/V Tools for PC support
tape-based workflows. These apps let you quickly and easily capture and playback video
and still frames for use with any NLE.



Flexible support for leading codecs, file formats, cameras, and workflows
Extensive application support including Final Cut Pro, Apple Color, Adobe After Effects and Premiere Pro,and many more
Cost-effective HD monitoring for Avid Media Composer 5 and Avid NewsCutter 9 with Matrox MXO2 Mini
10-bit HDMI input, output and monitoring with the unique Matrox HDMI Calibration Utility
10-bit realtime hardware up/down/cross conversion on capture and output


Hardware acceleration of Final Cut Pro Dynamic RT segments, HDV, and DVCPRO HD
Matrox Vetura stand-alone application for convenient playback of your H.264 and .mov files
Also available with Matrox MAX for faster than realtime H.264 encoding
Three-year hardware warranty and complimentary telephone support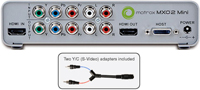 Product Code: MXO2Mini