Matrox Developer Products for Mac
Matrox Video Products Group offers a range of 3G, HD, SD, and Dual Link digital video hardware for Mac along with comprehensive software development tools for ingest and playout. ISVs and developers of video equipment for broadcast applications can take advantage of these components to create high-performance digital media systems at competitive price points including capture/playout servers, clip and still stores, character generators, graphics/production servers, and automation/master control units.

As a leading supplier of dependable board-level components and development tools to equipment manufacturers for over 30 years, Matrox continues to set the pace for technological innovation, quality, and support.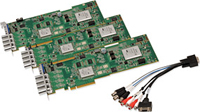 Product Code:
DeveloperProductsForMac