Matrox MXO2 Max for Mac
Matrox MXO2 Max gives you all the features of a high-quality capture card and a breakout box with a complete complement of professional audio and video inputs and outputs. It's also available with the Matrox MAX option for faster than realtime H.264 file encoding to turbo charge your deliveries to Blu-ray, the web, and mobile devices.

Only Matrox I/O devices deliver H.264 video up to 5 times faster without sacrificing quality
If you're delivering H.264 content for the web, mobile devices, Apple TV, and Blu-ray discs, you know how painful it can be to wait for the long encoding times needed to create high-quality video files using software only. You might even be tempted to sacrifice quality for speed. With Matrox MXO2 Mini MAX, you no longer need to even consider making that trade off.




Convenient form factor for use in studio, on set, in the field, and in OB vans
– Lightweight – less than 3½ lbs. (1600 grams)
– Can run off a field battery or its AC
Works with Intel-based MacBook Pros, Mac Pros, and Apple Xserve systems
Broadcast-quality HD/SD video and audio input/output
– HD/SD SDI, HD/SD analog component, Y/C, and composite
– Up to five user-selectable simultaneous video outputs – HD and/or SD on
HDMI, SDI, and analog
– Professional audio inputs and outputs with 5.1 surround sound
monitoring
– Genlock – SD analog black burst (bi-level) or HD tri-level sync
– RS-422 machine control for frame-accurate capture and print-to-
Flexible support for leading codecs, file formats, cameras, and workflows
– Captures to a variety of codecs – Apple ProRes 422 HQ, 10-bit
uncompressed HD, and many more
– File-based workflow support – XDCAM, XDCAM HD, XDCAM EX, P2, P2HD
– RED workflow support
– HD-SDI closed captioning support
– AFD support
Matrox MXO2 supports closed captioning workflows with Final Cut Pro on the Mac and
Adobe Premiere Pro on the PC
Extensive application support including Final Cut Pro, Apple Color, Adobe After Effects and
Premiere Pro, and many more
10-bit HDMI input, output, and monitoring with the unique Matrox Calibration Utility
10-bit realtime hardware up/down/cross conversion on capture and output


Hardware acceleration of Final Cut Pro Dynamic RT segments, HDV, and DVCPRO HD
Matrox Vetura stand-alone application for convenient playback of your H.264 and .mov files
Also available with Matrox MAX for faster than realtime H.264 encoding
Three-year hardware warranty and complimentary telephone support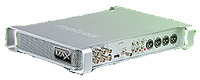 Product Code:
MXO2max