Matrox MojitoMax
Matrox Mojito MAX give you broadcast-quality input and output for your favorite editing app, it also turbocharges your H.264 encoding for deliveries to the web, mobile devices, and Blu-ray – in a single ¾-length PCIe card.

If you're delivering H.264 content for the web, mobile devices, Apple TV, and Blu-ray discs, you know how painful it can be to wait for the long encoding times needed to create high-quality video files using software only. You might even be tempted to sacrifice quality for speed. With Matrox Mojito Max, you no longer need to even consider making that trade off.

Matrox Mojito MAX amplifies your productivity with all the industry's leading editing and content creation software for Mac and PC, as well as a wide variety of H.264 encoding, Blu-ray authoring, and streaming applications.

Matrox Mojito MAX gives you a full range of professional audio and video inputs and outputs, genlock, RS-422 machine control and 5.1/7.1 surround sound monitoring on the HDMI output

Deliver projects in all the formats your clients demand. Matrox Mojito Max provides high-quality up/down/cross conversion on capture and output.

The unique Matrox HDMI Calibration Utility lets an HDMI monitor perform like a broadcast HD/SD monitor with 10-bit 4:2:2 color precision.

A variety of free software tools are included with every Matrox Mojito MAX card. Matrox Vetura Capture and Vetura Playback for Mac and Matrox A/V Tools for PC support tape-based workflows. These apps let you quickly and easily capture and playback video and still frames for use with any NLE. Matrox MAX H.264 Capture for PC lets you capture directly to H.264 files for the web, mobile devices, and Blu-ray.

The Matrox RT engine provides full-resolution, full-frame rate, full-quality, multi-layer, realtime video editing for Adobe Premiere Pro editors on the PC. It provides many of the benefits of GPU acceleration but works with any system, even laptops. You also get realtime Matrox Flex CPU effects such as primary and secondary color correction, smooth speed changes, and many more. A high-quality, highly-efficient
MPEG-2 I-frame intermediate codec streamlines working with CPU-taxing footage such as AVCHD and XDCAM.

Matrox Mojito Max is a convenient capture device for streaming live events. Choose your favorite app – Adobe Flash Media Live Encoder, Microsoft Expression, QuickTime Broadcaster, or Telestream Wirecast. Connect to any HD or SD video source via HDMI or analog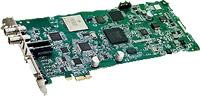 Product Code: MojitoMax