STREAM FROM ANY CAMERA. ANYWHERE.
The Matrox MXO2 family gives you a full range of streaming solutions ideal for field journalism, sports, live events, and distance learning. Choose your favorite app – Adobe Flash Media Live Encoder, Telestream Wirecast, or QuickTime Broadcaster. Connect to any HD or SD video source via SDI, HDMI, or analog. Stream from anywhere there's an internet connection.

News, sports, concerts, educational seminars, religious services, and corporate meetings are just a few of the many types of live events where an MXO2 device will come in handy for creating your internet broadcasts. You can also stream material that was previously recorded. Easily provide high-quality content to popular public distribution websites like Ustream, Justin.tv, Livestream or to your dedicated IP distribution site.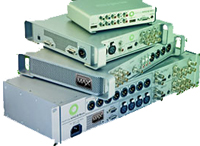 Product Code:
MXO2FamilyforStreaming
Convenient form factors for use in studio, on set, in the field, and in OB vans
Works with laptops and desktop systems
Connects to any HD and SD video source – HDMI, SDI, analog component, S-Video, and composite
Supports industry-leading streaming apps via QuickTime for Mac OS
Live pass-through for external video monitoring