---
7% Goods Service Tax (GST) will be imposed over the total invoice value if purchased locally in Singapore. However if you are a tourist visiting Singapore, this GST amount can be refunded at the Changi International Airport Departure Hall GST Refund Centre before departure with goods within 2 months from the date of purchase. Please note that only Tourists who have met the Tourist Refund Scheme's conditions and eligibility criteria can claim for the GST refund. Please visit: https://www.iras.gov.sg/IRASHome/GST/Consumers/Tourist-Refund-Scheme/ for GST Guide for Visitors on Tourist Refund Scheme.
Miller 850 DS20 2-Stage Alloy System (mid level spreader)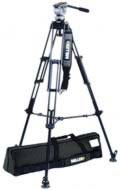 Product Code: MillerDS20

2-Stage height versatility plus above ground spreader in a stable support package gives DVCAM/ DVCPRO users cost-competitiveness with full broadcast performance.
Features: DS 20

Fluid Pan and Tilt head with 75mm ball leveling
Above Ground Spreader
Extra 5kg counterbalance for large and lens/battery DVCAM
2-Stage Alloy tripod w/toggle locks
Sliding plate: 1/4" & 3/8" screws or 1/4" & pin
---
Specifications of DS20

Material:
Aluminium
Maximum Height:
1667 mm (65.6 in)
Mounting Standard:
75mm ball leveling
Payload Range:
5 to 10 kg
Weight:
7.05 kg (15.5 lbs)
Construction:
2-Stage
Minimum Height:
527 mm (20.7 in)
Payload Capacity:
10.00 kg (22 lbs)
Transport Length:
827 mm (32.6 in)