---
7% Goods Service Tax (GST) will be imposed over the total invoice value if purchased locally in Singapore. However if you are a tourist visiting Singapore, this GST amount can be refunded at the Changi International Airport Departure Hall GST Refund Centre before departure with goods within 2 months from the date of purchase. Please note that only Tourists who have met the Tourist Refund Scheme's conditions and eligibility criteria can claim for the GST refund. Please visit: https://www.iras.gov.sg/IRASHome/GST/Consumers/Tourist-Refund-Scheme/ for GST Guide for Visitors on Tourist Refund Scheme.
Miller Compass12 (1870) Solo DV 2 Stage Carbon Fibre Tripod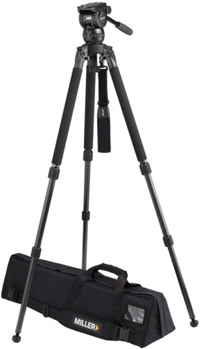 Product Code: MillerCompass12

The Compass 12 Solo DV Carbon Fibre system consists of the newly released Compass 12 fluid head and the ultra light yet rigid Solo DV 2-Stage Carbon Fibre Tripod. The system is designed to suit payload capacities from DSLR to DV camera set-ups with features including selectable smooth pan/tilt drags, illuminated bubble level, concentric self adjusting leg locks, light and high strength telescopic tubing and minimum travel length all offered in cost-effective system packages. This is the choice for DSLR / DV professionals on the go!
Features:

• Three selectable positions of drag plus a zero position
• Four selectable positions of counterbalance for payloads between 2-10 kg
• Quick release sliding camera plate with 60mm travel
• Illuminated bubble level
• 75mm Ball levelling
• Solo DV 2-Stage Carbon Fibre tripod
• 3 Position Leg angle locks for a height range 234-1614 mm
• Spikes with wind down rubber feet
---
Specifications:

Material:
Carbon Fibre
Maximum Height:
1784 mm (70.2 in)
Mounting Standard:
75mm ball levelling
Payload Range:
2-10 kg
Weight:
6.50 kg (14.3 lbs)
Construction:
2-Stage
Minimum Height:
404 mm (15.9 in)
Payload Capacity:
10.00 kg (22 lbs)
Transport Length:
864 mm (34 in)