---
7% Goods Service Tax (GST) will be imposed over the total invoice value if purchased locally in Singapore. However if you are a tourist visiting Singapore, this GST amount can be refunded at the Changi International Airport Departure Hall GST Refund Centre before departure with goods within 2 months from the date of purchase. Please note that only Tourists who have met the Tourist Refund Scheme's conditions and eligibility criteria can claim for the GST refund. Please visit: https://www.iras.gov.sg/IRASHome/GST/Consumers/Tourist-Refund-Scheme/ for GST Guide for Visitors on Tourist Refund Scheme.
Miller DS10 (1511) Solo DV Carbon Fibre System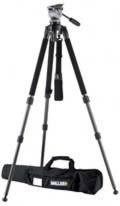 Product Code: MillerDS10

The Miller DS10 SOLO 10 system combines the ultra light, ultra rigid carbon fibre SOLO tripod with the versatile DS10 75mm ball leveling head & selectable counterbalance. With a height range from 8" all the way up to 63" SOLO 10 suits 5lb - 10lb MiniDV and DVCAM payloads from barebones to fully stacked PD150 or Canon XL-1.
Features:
Flick-of-a-switch 5-10lb CB selection
True fluid pan and tilt drag
75mm ball levelling
Quick Release sliding plate
2-Stage Carbon/magnesium telescoping
---
Specifications:

Material:
Carbon Fibre
Maximum Height:
1751 mm (68.9 in)
Mounting Standard:
75mm ball levelling
Payload Range:
2.5 to 5 kg
Weight:
4.85 kg (10.7 lbs)
Construction:
2-Stage
Minimum Height:
371 mm (14.6 in)
Payload Capacity:
5.00 kg (11 lbs)
Transport Length:
831 mm (32.7 in)