---
7% Goods Service Tax (GST) will be imposed over the total invoice value if purchased locally in Singapore. However if you are a tourist visiting Singapore, this GST amount can be refunded at the Changi International Airport Departure Hall GST Refund Centre before departure with goods within 2 months from the date of purchase. Please note that only Tourists who have met the Tourist Refund Scheme's conditions and eligibility criteria can claim for the GST refund. Please visit: https://www.iras.gov.sg/IRASHome/GST/Consumers/Tourist-Refund-Scheme/ for GST Guide for Visitors on Tourist Refund Scheme.
Miller Compass20 (1846) Solo 2-Stage Carbon Fibre Tripod System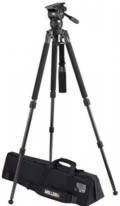 Product Code: MillerCompass20
Discontinued
The Compass 20 Solo DV Carbon Fibre system combines with the innovative lightweight Solo DV CF tripod and Compass 20 fluid head to provide professional performance for the latest generation of lightweight HDV / DVCAM / XDCAM and P2HD cameras.
Features:

• Five selectable positions of high performance drag plus a zero position
• Selectable counterbalance system for payloads between 2-12kg
• Quick release, 60mm sliding camera platform with mini Euro plate mounting
• Solo DV 2-Stage Carbon Fibre tripod
• Leg angle lock for 8"-63" height range
• Spike/Rubber feet support
• 75mm ball levelling
---
Specifications:

Material:
Carbon Fibre
Maximum Height:
1794 mm (70.6 in)
Mounting Standard:
75mm ball leveling
Payload Range:
2 to 12 kg
Weight:
6.90 kg (15.2 lbs)
Construction:
2-Stage
Minimum Height:
414 mm (16.3 in)
Payload Capacity:
12.00 kg (26.5 lbs)
Transport Length:
874 mm (34.4 in)