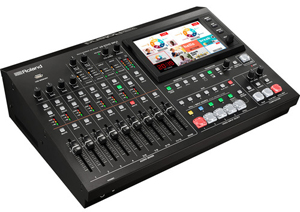 Roland VR-50HD MK II Multi-Format AV Mixer with Integrated PTZ camera control
Product Code: VR-50HD MK II


Features
• Aux output for dedicated record, streaming, or confidence monitor feeds
• Updated user interface for fast, trouble-free operation
• New high-quality audio preamps and converters for crystal-clear sound
• Direct control of select PTZ cameras from JVC and Panasonic over LAN
• Automatic audio mixing and video switching functions to support single operators

Roland VR-50HD MK II Multi-Format AV Mixer with USB 3.0 Streaming
All-in-one convenience and ultra-flexible connectivity.
The powerful Roland VR-50HD MK II is a completely self-contained AV solution, consolidating video switching, digital audio mixing, multi-viewer touchscreen control, and USB AV streaming into a single unit that's simple to run. And with the comprehensive rear patch panel, it's quick and easy to make on-the-fly input assignments to cross-points on the switcher.

Separate feeds for separate needs.
Live streams, HD recording, and presenter confidence monitor often have separate visual needs from the main program output. The Roland VR-50HD MK II has you covered, allowing you to send any of the connected input devices to a dedicated Aux output without affecting the main PGM destination. Use the Aux assignment panel buttons to switch the source, or synchronize the Aux output with the PGM (mixer) output to act as a built-in distribution amp.

Pro sound made easy.
Great sound is always expected for events and live streams, but employing a dedicated audio engineer doesn't always fit the budget. The Roland VR-50HD MK II eliminates this problem, offering a number of automation functions that allow a single operator to switch video and mix pro-level audio at the same time. Use Auto Mixing to balance audio levels, Video Follows Audio to switch cameras based on sound input, and Anti-Feedback to automatically tame howling mic feedback.

The Roland VR-50HD MK II is also equipped with a variety of standard audio production inputs, including four XLR/TRS combo jacks with 48 V phantom power, four stereo pairs (two ¼-inch and two RCA), and embedded audio from 3G/HD/SD-SDI and HDMI.

Integrated PTZ camera control.
Robotic pan-tilt-zoom (PTZ) cameras eliminate the need for multiple camera operators, provide great production coverage with studio-grade broadcast quality, and can be placed in discreet locations thanks to their small size. The VR-50HD MK II includes built-in support to directly control select JVC and Panasonic PTZ LAN cameras, so you don't need to employ a dedicated PTZ camera controller or operator. Up to six PTZ cameras can be operated at once via the LAN port.

Intelligence built in.
The Roland VR-50HD MK II is equipped with a number of intelligent audio mixing and video switching functions to enhance your workflow. See the VR-50HD MK II's intelligent functions in action.

Video
Video Processing
4:4:4 (RGB), 10-bit
4:4:4 (Y/Pb/Pr), 10-bit
Input Connectors
SDI IN 1--4 connectors: BNC type x 4 (INPUT 1--4)
* Conforms to SMPTE 424M (SMPTE 425M-AB), 292M, 259M-C.
HDMI IN 1--4 connectors: HDMI type A x 4 (INPUT 1--4)
* HDCP Supported
RGB/COMONENT IN 1--2 connectors: HD DB-15 type x 2 (INPUT 1--2)
COMPOSITE IN 1--2 connectors: BNC type x 2 (INPUT 1--2)

* INPUT 1--2: Select SDI, HDMI, RGB/COMPONENT or COMPOSITE using menu.
Output Connectors
HSDI OUT (PGM, AUX) connectors: BNC type x 2 (PGM OUT, AUX OUT)
* Conforms to SMPTE 424M (SMPTE 425M-AB), 292M, 259M-C
HDMI OUT (PGM, AUX, MULTI-VIEW) connectors: Type A x 3 (PGM OUT, AUX OUT, MULTI-VIEW OUT)
* HDCP Supported
Analog RGB/HD-Component: Mini D-sub 15-pin type x 2 (PGM OUT, AUX OUT)
Input/Output Level and Impedance
Composite (COMPOSITE IN): 1.0 Vp-p 75 ohms
Analog RGB (RGB/COMPONENT IN, RGM/COMPONENT OUT): 0.7 Vp-p 75 ohms (H, V: 5 VTTL)
Analog HD (RGB/COMPONENT IN, RGB/COMPONENT OUT): 1.0 Vp-p 75 ohms (Sync-Signal: Bi-Level/Tri-Level)
Supported Video Formats
SDI (SDI IN, SDI OUT): 480/59.94i, 576/50i, 720/59.94p, 720/50p, 1080/59.94i, 1080/50i, 1080/59.94p, 1080/50p
* Conforms to SMPTE 274M, SMPTE 296M, ITU-R BT.601-5.

HDMI (HDMI IN, HDMI OUT) (*1): 480/59.94i, 576/50i, 480/59.94p, 576/50p, 720/59.94p, 720/50p, 1080/59.94i, 1080/50i, 1080/59.94p, 1080/50p 1024 x 768/60 Hz (*2), 1280 x 720/60 Hz (*2), 1280 x 800/60 Hz (*2), 1280 x 1024/60 Hz (*2), 1400 x 1050/60 Hz, 1920 x 1080/60 Hz

HDMI (HDMI OUT MULTI-VIEW only) (*1): 1080/59.94p

Component (RGB/COMPONENT IN, RGB COMPONENT OUT): 480/59.94i, 576/50i, 480/59.94p, 576/50p, 720/59.94p, 720/50p, 1080/59.94i, 1080/50i, 1080/59.94p, 1080/50p

RGB (RGB/COMPONENT IN, RGB/COMPONENT OUT) (*1): 1024 x 768/60 Hz (*2), 1280 x 720/60 Hz (*2), 1280 x 800/60 Hz (*2), 1280 x 1024/60 Hz (*2), 1400 x 1050/60 Hz, 1920 x 1080/60 Hz

Composite (COMPOSITE IN): NTSC, PAL

*Note
*1 Conforms to CEA-861-E or VESA DMT Version 1.0 Revision 11.
*2 Output refresh rate is 75 Hz when frame rate is set to 50 Hz.
* The video signal frame rate must match the unit's frame rate setting.
* The output format of HDMI and RGB/Component is always the same.
When a Video format is selected, component signal is output from the RGB/COMPONENT connector.
When a RGB format is selected, RGB signal is output from the RGB/COMPONENT connector.

USB-VIDEO (USB STREAMING): 480/29.97p, 576/25p, 480/59.94p, 576/50p, 720/29.97p, 720/25p, 720/59.94p, 720/50p, 1080/29.97p, 1080/25p, 1080/59.94p, 1080/50p

Still Image: Windows(R) Bitmap File (.bmp)
* Maximum 1920 x 1080 pixels, 24-bit per pixel, uncompressed.
* It can be loaded up to 4 files from USB memory.
Effects
Transition: Mix, Cut, Wipe (9 patterns)
Composition: PinP, Chrominance Key, Luminance Key
Others: Output Fade, Output Freeze, User Logo
Audio
Audio Processing
Sampling Rate: 24 bits, 48 kHz
Audio Formats
SDI (SDI IN, SDI OUT): Linear PCM, 24 bits, 48 kHz, 2 ch
* SMPTE 299M, SMPTE 272M-C
HDMI (HDMI IN, HDMI OUT): Linear PCM, 24 bits, 48 kHz, 2 ch
USB-AUDIO (USB STREAMING): Linear PCM, 16 bits, 48 kHz, 2 ch
Input Connectors
AUDIO IN 1--4 jacks: Combo type (XLR, 1/4-inch TRS phone), balanced, phantom power (DC 48 V, 10 mA Max)
AUDIO IN 5--8 jacks (1/4-inch TRS phone type) (LINE 1--2)
* AUDIO IN 5 and 7 are mic level capable. (MIC 5, 7)
AUDIO IN 9--12 jacks (RCA phono type) (LINE 3--4)
Output Connectors
AUDIO OUT MAIN (L, R) jacks: XLR type
AUDIO OUT AUX 1 (L, R) jacks: RCA phono type
AUDIO OUT AUX 2/MONITOR (L, R) jacks: 1/4-inch TRS phone type
PHONES jack: Stereo 1/4-inch phone type
PHONES jack: Stereo miniature type
Nominal Input Level
AUDIO IN 1--4 jacks: -64 to +4 dBu (Maximum input level: +24 dBu)
AUDIO IN 5, 7 jacks: -64 to +4 dBu (Maximum input level: +24 dBu)
AUDIO IN 6, 8 jacks: +4 dBu (Maximum input level: +24 dBu)
AUDIO IN 9--12 jacks: -10 dBu (Maximum input level: +9 dBu)
Input Impedance
AUDIO IN 1--4 jacks: 30 k ohms
AUDIO IN 5--8 jacks: 30 k ohms
AUDIO IN 9--12 jacks: 7 k ohms
Nominal Output Level
AUDIO OUT MAIN L-R jacks: +4 dBu (Maximum output level: +24 dBu)
AUDIO OUT AUX 1 jacks: -10 dBu (Maximum output level: +8 dBu)
AUDIO OUT AUX 2/MONITOR jacks: +4 dBu (Maximum output level: +24 dBu)
Headphones: 72 mW + 72 mW (32 ohms load)
Output Impedance
AUDIO OUT MAIN L-R jacks: 600 ohms
AUDIO OUT AUX 1 jacks: 1 k ohms
AUDIO OUT AUX 2/MONITOR jacks: 600 ohms
Headphones: 30 ohms
Audio Effects
Auto mixing, Anti-feedback, 4-Band EQ, Delay, Compressor, HPF, Noise Gate, Reverb, Limiter, Voice changer, 15-Band EQ

Channel Effects(common): HPF, Compressor, Noise Gate, 4-Band EQ, Delay
Channel Effects(FX Block): Anti-feedback, Voice changer
Master Effects: 4-Band EQ, Compressor, Limiter, Reverb, 15-Band EQ
Others
Remote Control
RS-232C connector: D-sub 9 pin type
LAN connector: RJ45 100BASE-TX
USB Interface
USB MEMORY port (HOST): USB A type for USB MEMORY(USB flash drive, Still image)
USB port (HOST): USB A type(Use for future expansion)
USB STREAMING port (DEVICE): USB B type for USB-VIDEO(SuperSpeed/Hi-Speed), USB-AUDIO (Full-Speed)
Other Functions
Preset Memory (8 types)
Panel lock function
EDID emulator
Auto switching (Video follows audio)
Remote Camera Control
Display
7 inch Graphic color LCD 800 x 480 dots (touch screen)
Power Supply
AC Adaptor, Secondary AC Adaptor DC 9 V to 16 V (XLR-4-32 type)
Current Draw
2.8 A
Power Consumption
67 W
Operation Temperature
+0 to +40 degrees Celsius
+32 to +104 degrees Fahrenheit
Accessories
Startup Guide
Leaflet "USING THE UNIT SAFELY"
AC adaptor
Power cord
Ground Cord
Dimensions
437 (W) x 325 (D) x 125 (H) mm
17-1/4 (W) x 12-13/16 (D) x 4-15/16 (H) inches
Weight
5.9 kg
13 lbs 1 oz
Roland VR-50HD MK II AV Mixer Review

---