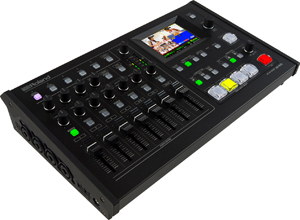 Roland VR-4HD All-In-One HD AV Mixer Built-in touch quad-input multi-viewer with audio metering
Product Code: VR-4HD


Features
• All-in-one portable production solution
• 6 input, 4-Channel Video Switcher
• Built-in Scaler via CH4
• Auto mixing and Echo Canceling function
• Built-in touch quad-input multi-viewer with audio metering
• External Multi-View Output through HDMI
• HDCP Support

The Roland VR-4HD features professional quality broadcast controls and switches ensuring more accurate and faster operation than interfaces based on a computer style mouse and keyboard. The ability to simultaneously switch video with the push of a button and adjust audio with the push of a fader is invaluable and puts all essential features at the operator's fingertips.

The built-in multi-view screen is also a touch screen interface for accessing set-up parameters, making it extremely easy to adjust picture-in-picture settings by dragging the inset window onto the screen.

COMPOSITING EFFECTS
The RolandVR-4HD includes DSK (Downstream Keying), Picture-in-Picture (PinP), Split and Quad composting effects ideal for creating news style broadcasts and corporate presentation content.

The DSK function is great for overlaying titles, song lyrics or logos onto incoming video sources that can be switched in the background while text or images remain displayed.The DSK supports both Luminance Keying (Black / White) and Chroma Keying (Blue / Green) for compositing two videos in one screen using Picture-in-Picture, or for using the split function - ideal for seminars and presentations.

GREAT VIDEO NEEDS GREAT AUDIO
Achieving great sounding audio for video productions is easy with the VR-4HD which features Roland's award winning digital signal processing and advanced features including auto-mixing, echo cancel and delay for perfect lip-sync between audio and video. The Roland VR-4HD's audio mixer can mix the four XLR microphone inputs, stereo RCA and 1/8 mini connector along with the audio embedded in the four HDMI inputs. The final mix can be output via XLR, RCA and also embedded into the HDMI ouput.

USB 3.0 FOR RECORDING AND STREAMING
Recording or webcasting from the VR-4HD is easily achieved by connecting to a PC or Mac using the built-in USB 3.0 connection. Up to Full 1080p uncompressed resolution can be output from the VR-4HD. The Roland VR-4HD embeds the audio mix with the video program and delivers at the selected resolution.

The free VR Video Capture application for Mac and PC provides an easy and effective way to capture uncompressed video with high resolution audio. The VR Video Capture application can also capture compressed video for easy and immediate delivery of content to online video sites or internal corporate servers.

REMOTE CONTROL
The Roland VR-4HD RCS software is designed to control the VR-4HD using a computer. By connecting the VR-4HD to your computer via USB, you will be able to copy settings (backup) or update the system software of the VR-4HD in addition to remote controlling the unit from your computer.

The Roland VR-4HD can be operated remotely from a computer, touch panel, or other external control device through RS-232C. The Roland VR-4HD is equipped with a D-Sub 9-pin TALLY/GPIO connector. In addition to tally input/output functions, this provides functionality for control signal input and output, and you can use it to transmit and receive

Features
• All-in-one portable production solution
• Easy to use with dedicated hardware controls and audio faders and integrated touch screen preview monitor
• 6 input, 4-Channel Video Switcher
• Supports HDMI*1, RGB/Component, and Composite Video Inputs Up to 1080p
• Input 4's scaler now supports a wider range of video and VESA resolutions.*1 *2
• Built-in Scaler via CH4
• 18-Channel Digital Audio Mixer with XLR, TRS, and RCA jacks along with audio from HDMI inputs
• Embedding and de-embedding of audio with delay settings
• Auto mixing and Echo Canceling function
• Composition effects including DSK (Downstream Keyer), picture-in-picture etc.
• Capturing a still Image from Input Video on channel 4*3 [Ver.1.5]
• Built-in touch quad-input multi-viewer with audio metering
• External Multi-View Output through HDMI
• HDCP Support
• USB3.0 Video/Audio Output up to 1080/30p (uncompressed) and Audio Loopback Feature
• Software control using VR-4HD RCS application for Mac and PC and remote control via USB connection
• Sending a still image to the VR-4HD by VR-4HD RCS*3 [Ver.1.5]
• Tally, GPIO connections
*1 HDCP Compliant
*2 Built-in EDID Emulator
*3 The Still-image data is deleted once the power is turned off.

VIDEO
Processing
4:2:2 (Y/Pb/Pr), 8-bit
Input Connectors
INPUT 1-3: HDMI Type A (19 pins) x 3
* HDCP Supported

INPUT 4: HDMI Type A (19 pins) x 1
* HDCP Supported
RGB/COMPONENT (Mini D-sub 15-pin type) x 1
COMPOSITE (RCA phono type) x 1
* INPUT 4: HDMI , RGB/COMPONENT or COMPOSITE selected.
Output Connectors
MAIN OUT: HDMI Type A (19 pins) x 1
* HDCP Supported
RGB/COMPONENT (Mini D-sub 15-pin type) x 1

PREVIEW OUT: HDMI Type A (19 pins) x 1
* HDCP Supported

USB3.0: USB B type x 1
Input formats
HDMI INPUT 1-3: 720/59.94p, 720/50p (SYSTEM FORMAT: 720p)
1080/59.94i, 1080/50i, 1080/59.94p, 1080/50p (SYSTEM FORMAT: 1080i, 1080p)

INPUT 4: HDMI, RGB/COMPONENT:
480/59.94i, 576/50i, 480/59.94p, 576/50p
720/59.94p, 720/50p, 1080/59.94i, 1080/50i
1080/59.94p, 1080/50p
VGA (640 x 480/60 Hz), SVGA (800 x 600/60 Hz), XGA (1024 x 768/60 Hz)
WXGA (1280 x 768/60 Hz), SXGA (1280 x 1024/60 Hz)
FWXGA (1366 x 768/60 Hz), SXGA+ (1400 x 1050/60 Hz)
UXGA (1600 x 1200/60 Hz), WUXGA (1920 x 1200/60 Hz)

COMPOSITE: 480/59.94i, 576/50i
* The refresh rate is the maximum value of each resolution.
* Conforms to VESA DMT Version 1.0 Revision 11.
* 1920 x 1200/60 Hz: Reduced blanking
* The input interlaced video signal is converted to progressive video signal by internal processing.
* The video signal frame rate can be selected at the SYSTEM menu (59.94 Hz or 50 Hz).
Output formats
MAIN OUT (HDMI, RGB/COMPONENT): 480/59.94i, 576/50i, 480/59.94p, 576/50p
720/59.94p, 720/50p, 1080/59.94i, 1080/50i
1080/59.94p, 1080/50p
VGA (640 x 480/60 Hz), SVGA (800 x 600/60 Hz), XGA (1024 x 768/60 Hz)
WXGA (1280 x 768/60 Hz), SXGA (1280 x 1024/60 Hz)
FWXGA (1366 x 768/60 Hz), SXGA+ (1400 x 1050/60 Hz)
UXGA (1600 x 1200/60 Hz), WUXGA (1920 x 1200/60 Hz)

PREVIEW OUT: 720/59.94p, 720/50p (SYSTEM FORMAT: 720p)
1080/59.94i, 1080/50i (SYSTEM FORMAT: 1080i)
1080/59.94p, 1080/50p (SYSTEM FORMAT: 1080p)

USB3.0: 720/29.97p, 720/25p (SYSTEM FORMAT: 720p)
1080/29.97p, 1080/25p (SYSTEM FORMAT: 1080i, 1080p)
* The MAIN OUTPUT format of HDMI and RGB/COMPONENT is always the same.
When an interlaced format is selected, component signal is output from the RGB/COMPONENT connector.
When a non-interlaced format is selected, RGB signal is output from the RGB/COMPONENT connector.
* The video signal frame rate can be selected at the SYSTEM menu (59.94 Hz or 50 Hz).
Video Effects
Transition: CUT, MIX (DISSOLVE/FAM/NAM/MOSAIC), WIPE (30 types)
Effects: NEGATIVE, EMBOSS, COLORIZE, COLORPASS, POSTERIZE, SILHOUETTE, MONOCOLOR, FINDEDGE (8 types)
Composition: PinP, SPLIT, QUAD, KEY (Luminance Key, Chroma Key)
AUDIO
Audio Processing
Sampling rate: 24 bits/48 kHz
Audio formats
HDMI: Linear PCM, 24 bits/48 kHz, 2 ch
USB: Linear PCM, 16 bits/48 kHz, 2 ch
Input Connectors
AUDIO IN 1-4 (XLR/TRS combo type, phantom power)
AUDIO IN 5-6 (RCA phono type)
AUDIO IN 7/8 (Stereo miniature type)
USB B type (stereo)
Phantom Power
DC 48 V (unloaded maximum), 10 mA (maximum load)
* Current value per channel
Output Connectors
AUDIO OUT: L, R (XLR type)
L, R (RCA phono type)

AUX OUT: L, R (RCA phono type)

USB: USB B type (stereo)

PHONES: Stereo miniature type
Signal Level and Impedance
XLR/TRS combo type
Input Signal Level : -60--+4 dBu (Maximum: +22 dBu)
Input Impedance : 10 k ohms (GAIN 0--23 dB), 5 k ohms (GAIN 24--64 dB)
RCA phono type
Input Signal Level : -10 dBu (Maximum: +8 dBu)
Input Impedance : 15 k ohms
Output Signal Level : -10 dBu (Maximum: +8 dBu)
Output Impedance : 1 k ohm
XLR type
Output Signal Level : +4 dBu (Maximum: +22 dBu)
Output Impedance : 600 ohms
Miniature type
Input Signal Level : -15 dBu (Maximum: +3 dBu)
Input Impedance : 15 k ohms
Headphones
Output Signal Level : 75 mW + 75 mW
Output Impedance : 32 ohms
Audio Effects
Auto Mixing, Echo Cancel, EQ, Delay, Compressor, HPF, Gate, Reverb, Multi-Band Compressor, Limiter
OTHERS
Other Connectors
RS-232:
D-sub 9-pin type
Tally/GPIO:
Mini D-sub 15-pin type
USB 3.0/2.0 (device):
USB B type, USB-VIDEO (Super-Speed), USB-AUDIO 2 IN/2 OUT (Full-Speed), remote control from PC
Display
Graphic Color LCD, 320 x 240 dots, touch panel
Other Functions
MEMORY (8 types)
FREEZE (input video captured)
OUTPUT FADE (Audio, Video: WHITE or BLACK)
Power Supply
AC Adaptor
Current Draw
3 A
Power Consumption
36 W
Operation Temperature
+0 to +40 degrees Celsius
+32 to +104 degrees Fahrenheit
Dimensions
339 (W) x 217 (D) x 87 (H) mm
13-3/8 (W) x 8-9/16 (D) x 3-7/16 (H) inches
Weight (excluding AC adaptor)
2.4 kg
5 lbs 5 oz
Accessories
Owner's manual
AC adaptor
Power cord
Notes
* 0 dBu=0.775 Vrms
Roland VR-4HD All-In-One HD AV Mixer Review

---