ABonAir Intercom Kit Integrated Wireless Intercom Up to 3 Km range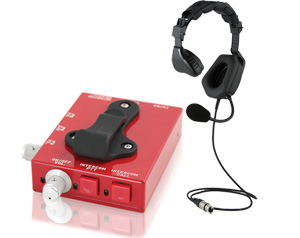 Product Code: INTERCOM



ON THE AIR, THROUGH THE AIR.
The Multi-Camera Broadcast Challenge More and more camera teams benefit from using wireless equipment to transmit video content from cameras to Mobile BroadcastTrucks or Media Centers.

The challenge in multi camera operation is to maintain communications between the director in the Media Center and the cameramen in the field (football stadium or outdoor reality show, for example) while the distance between them increases. In most wireless broadcast installations, Wireless Video transmission and Intercom systems use different radio technology and frequencies. The Intercoms limit the cameraman range to around 500 meters, and although the video transmission range may reach 3 kilometers, the cameraman is limited
to only 500 meters range of the Intercom. As a result, the director cannot communicate with the cameraman although the video can still function properly.

In addition, installing a separate wireless Intercom system involves complex set up, added costs, and extra weight, as the cameraman needs to carry more equipment to support the communications system. Extra equipment naturally causes a higher total cost.

ABonAir -The Intercom Solution
ABonAir's system is the only one supporting integrated Intercom for communication between the cameraman and the director on the same RF channel as the video content. ABonAir's system does not require an additional RF channel allocation for the Intercom or additional equipment support. This reduces cost, setup time and frequency usage.
YOUR WIRELESS PRODUCTIONS WITH FULL COMMUNICATION TO CAMERA MAN
• Upgrade kit – compatible with AB512.
• Full duplex intercom talkback.
• IFB – Interrupted Feedback for News talent.
• Up to 3 Km range.
• Utilizes ABonAir unlicensed frequency (5-6 GHz), No additional antennas required.
• Plug and communicate - no setup required.
• 4-wire and 2-wire support for easy integration with intercom matrix.
• Volume control, PTT button, VOX control, Call button.
Intercom
Transmitter
Integrated belt pack with IFB output
Receiver
Integrated belt pack with IFB output or Integral part of 1U receiver with 4-wire and 2-wire support
Mechanical
Size
10 cm x 8 cm x 2.5 cm
Weight
250 gram
Humidity
95%
Intercom Buttons and Controls
IFB Buttons and Controls
Power ON & Volume POT.
Volume POT.
PTT Button
-
Call Button
-
VOX Control
-
Intercom Connectors
IFB Connectors
Headset Plug
IFB Ear Plug
Main System Connector
IFB Microphone