ABonAir AB507 7 MSec Delay Wireless Microwave Transmission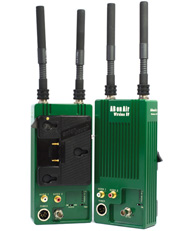 Product Code: AB507



ON THE AIR, THROUGH THE AIR.
Instant gratification:
A camera team armed with the ABonAir's AB507™ wireless video system can wirelessly transmit video directly from cameras to media centers or OB trucks. ENG or OB truck teams must be ready anytime, anywhere to instantly provide a live coverage from the scene. The
AB507™ system is also optimized for basic sport coverage in universities and high school, where ccu is not required.

Never drops the ball:
Built on a bi-directional radio channel between transmitter and receiver, ABonAir's systems acknowledge the correct acceptance of each group of pixels, thus providing exceptionally robust and reliable transmission.

Go the distance:
The AB507™ enables video transmission of up to 1,000 meter by utilizing full MIMO radio employing two antennas at the transmitter and receiver to enhance performance and ensure coverage even in extreme radio signal environments.
YOUR NEWS AND SPORT EXCITEMENT MOMENT NEVER BEEN SO LIVE:
• Sub-frame delay (7 msec): For live event coverage and multi-camera production
• High-picture quality (+52dB PSNR): With new revolutionary H.264 CODEC technology
• Full resolution supports: 1080p (up to 60 fps), 1080i, 720p, NTSC, PAL
• Superior coverage utilizing MIMO and fiberbased antenna.
• Wide coverage distance: up to 1,000 meter
• Unlicensed frequency
• Bi-directional radio with per pixel acknowledgement
Video
Video Input HD-SDI | SD-SDI
Video Formats 1080p | 1080i | 720p | NTSC | PAL
Frame Rates 60 | 59.94 | 50 | 30 | 29.97 | 25 | 24 | 23.94
Codec Engine H.264
Latency Sub Frame Delay 7 mSec

Radio
Modulation Modes OFDM: BPSK | QPSK | 16QAM | QAM
FEC 1/2 | 2/3 | 3/4 | 5/6 | 7/8
Frequency Range 5GHz band — 4.9-5.875 Ghz
Transit Power Adjustable 50-350mW
Antenna Connector N-type
Encryption AES-128

Audio
Analog Input Line stereo pair
Analog Range -60dBm — +18 dBm
Sampling Rate Analog or embedded SDI @ 48KHz

Power Supply
Voltage 10V-14V DC
Transmitter Power Consumption 10W

Transmitter Mechanical
Size 23.5cm×10cm×4cm
Weight 1.1 KG
Humidity 95%
Battery Mounting V-Lock or Gold Mount