ABonAir MultiZone Seamless Roaming Coverage Supporting Up To 250 MIMO Antennas
NO IMAGE


Product Code: MULTIZONE



AB-MultiZone unprecedented wireless broadcast technology allows the coverage of massive areas and even multiple zones – connecting up to 250 antennas and roaming from one coverage zone to another seamlessly and automatically without dropping even a single pixel.

AB-MultiZone introduces continuous, unlimited coverage with a single receiver connecting up to 250 MIMO antennas. Deployment can start with as few as 2 antennas and grow as required.

The AB-MultiZone perfectly addresses the coverage challenges of dispersed locations like golf courses, race tracks or separate venues (for example multi-venue productions in colleges, covering both football arena and basketball field).

The system can be deployed in multiple topologies for ease of installation: daisy chain, star or any combination of the two, enabling flexible topologies based on venue requirements. The system automatically identifies the topology in place, making setup simple and easy.

ABonAir's robust wireless broadcast systems enable broadcast professionals to transmit content directly from the field to the control center, providing the benefits of unique shooting angles, original content and flexible setups. Standard wireless transmission's coverage is limited to 6 or 8 antenna beams with restricted range. Problems may come to light when covering wide areas such as a golf courses, or the need to move with the camera outside the stadium to dressing rooms or even parking lot. Traditionally, in large area coverage the transition from one zone to the next was not smooth, requiring a complex antenna and cable installation, or even a second receiver. Broadcast productions had to rigorously plan the camera path in advance, as they rarely moved from one zone to another during broadcast. One of the primary issues was the risk of link drop and broadcast discontinuity as the camera transitioned between zones.

With ABonAir's revolutionary AB-MultiZone for large, seamless roaming coverage, you can connect as many as 250 antennas in any desired topology. The transmitter connects automatically to the nearest antenna without dropping the link, ensuring smooth continuous coverage. What's more, the network setup is easy and quick as the topology in place is automatically identified and configured. The deployed topology can be a star, daisy chain or any combination of the two. Connecting the different system elements (receiver and antennas) are fiber optic cables which are already in place in most locations, making installation extremely simple and easy.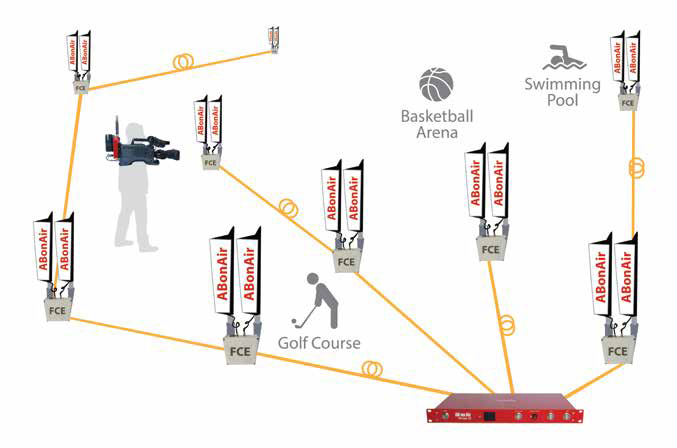 Features
• Up to 250 MIMO antenna connectivity with a single receiver
• Automatic transition between coverage zones
• Fiber optic based connectivity
• Flexible topology design
• Automatic topology identification and setup

Benefits
• Unlimited coverage of large areas
• Simple multi-venue coverage
• Seamless 'roaming' for robust coverage
• Ease of installation

Applications
• Golf courses
• Multi-Venue sports arenas / stadiums
• Race tracks
• University and college campuses
• Live events - wide coverage areas