---
7% Goods Service Tax (GST) will be imposed over the total invoice value if purchased locally in Singapore. However if you are a tourist visiting Singapore, this GST amount can be refunded at the Changi International Airport Departure Hall / Seletar Airport Passenger Terminal / Marina Bay Cruise Centre Singapore/ International Passenger Terminal at Harbourfront Centre GST Refund Centre before departure with goods within 2 months from the date of purchase. Please note that only Tourists who have met the Tourist Refund Scheme's conditions and eligibility criteria can claim for the GST refund. Please visit: https://www.iras.gov.sg/IRASHome/GST/Consumers/Tourist-Refund-Scheme/ for GST Guide for Visitors on Tourist Refund Scheme.
Panasonic PT-EX16K Large Venue DLP Projector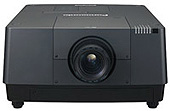 Product Code: PTEX16K

The PT-EX16K LCD projector, featuring 16,000 lumens of brightness XGA resolution, is added to the large venue lineup for houses of worship, mid sized rental and staging and customers seeking for high brightness large venue projection images for moderate use. The product is equipped with a quad lamp technology and encased in a ruggedized chassis for high reliability and durability. Pure Color Control, which independently controls yellow brightness to improve color reproduction, attains this superb brightness with optimal coloring. The 4-Lamp Optical System maintains high reliability. And system expansion functions include horizontal/vertical lens shift and a Multi-Screen Support System. These and other features enable flexible installation for a wide variety of applications.
• A full 16,000 lm of Brightness and 2500:1 Contrast
• Excellent colours with pure color control
• Full 10-Bit Image Processing system
• 4-Lamp optical system enables stable, extended operation
• Highly durable optical engine ensures excellent long-time image quality
• Adverse dust effects prevented by a long-lasting air filter
• Optional smoke cut filter provides protection from fine smoke particles
• Horizontal/vertical lens shift function and a variety of lens
• Flexible installation
• Mechanical shutter for a total screen blackout
• Easy Remote Control and observation
• Corner keystone correction enables angled projection
• Multi-screen support system seamlessly connects multiple screens
Optical axis shift
With the ET-ELW06: vertical ±38% from center of screen (powered)3
With the ET-ELW02/ELW04/ELS03/ELM01/ELT02/ELT03: vertical ±38%, horizontal ±10% from center of screen (powered)
With the ET-ELS02: vertical ±50%, horizontal ±10% from center of screen (powered)
Keystone correction range
Vertical: Maximum ±40° (with XGA signal input, for vertical correction only),
Horizontal: Maximum ±40° (with XGA signal input, for horizontal correction only)
Display Method
Transparent LCD panel (× 3, R/G/B)
LAN
RJ-45 x 1 (for network connection, 10Base-T/100Base-TX, compliant with PJLink&trade:)
Supplied Accessories
Power cord, power cord secure lock, wireless remote control unit, batteries (R6/AA type × 2)
Lens
Optional
S-VIDEO In
Mini DIN 4-pin x 1 (S-Video)
REMOTE 1 IN
M3 jack x 1 (for wired remote control)
REMOTE 1 OUT
M3 × 1 for link control (for wired remote control)
Scanning Frequency - HDMI/DVI-D
Horizontal: 26-80 kHz, vertical: 23-85 Hz, dot clock: 162 MHz or lower
HDMI-IN
HDMI 19-pin x 1 (compatible with HDCP, compatible with Deep Color)
480p, 576p, 720/60p, 720/50p, 1080/60i, 1080/50i, 1080/24p, 1080/24sF, 1080/25p, 1080/30p, 1080/60p, 1080/ 50p,
VGA (640 x 480)-WUXGA (1,920 x 1,200)4, compatible with non-interlaced signals only, dot clock: 25-162 MHz
fH: 45.00 kHz, fV: 60 Hz [720 (750)/60p]
fH: 37.50 kHz, fV: 50 Hz [720 (750)/50p]
fH: 33.75 kHz, fV: 60 Hz [1080 (1125)/60i]
fH: 33.75 kHz, fV: 60 Hz [1035/60i]
fH: 31.50 kHz, fV: 60 Hz [480p (525p)]
fH: 31.25 kHz, fV: 50 Hz [576p (625p)]
fH: 28.13 kHz, fV: 50 Hz [1080 (1125)/50i]
fH: 28.13 kHz, fV: 25 Hz [1080/25p]
Scanning Frequency - RGB
fH: 15-120 kHz, fV: 48-120 Hz, dot clock: 230 MHz or lower
S-Video/Video
fH: 15.75 kHz, fV: 60 Hz [NTSC/NTSC4.43/PAL-M], fH: 15.63 kHz, fV: 50 Hz [PAL/PAL-N/SECAM]
Scanning frequency - YPBPR (YCBCR)
fH: 15.75 kHz, fV: 60 Hz [480i (525i)]
fH: 15.63 kHz, fV: 50 Hz [576i (625i)]
DVI-D in
DVI-D 24-pin x 1 (DVI 1.0 compliant, compatible with HDCP, compatible with single link only)
480p, 576p, 720/60p, 720/50p, 1080/60i, 1080/50i, 1080/24p, 1080/24sF, 1080/25p, 1080/30p, 1080/60p, 1080/50p,
VGA (640 x 480)-WUXGA (1,920 x 1,200)4, compatible with non-interlaced signals only, dot clock: 25-162 MHz
RGB 2 IN
D-Sub HD 15-pin (female)
SERIAL IN
D-sub 9-pin (male) × 1 for external control
REMOTE IN
M3 Jack x 1 (for wired remote control)
Installation
Ceiling/floor, front/rear
VIDEO IN
BNC x 1 (composite video)
Weight
Approximately 102.5 lbs.
Power Consumption
1,850 W (18 W with standby mode)
Pixels
786,432 (1,024 × 768) × 3, total of 2,359,296 pixels
Screen Size
40- 600 inches (100-600 inches with the ET-ELS03), 4:3 aspect ratio
Lamp
380 W x 4
Operating humidity
20%-80% (no condensation)
Contrast Ratio
2,500:1
Dimensions (W X H X D)
25.6" × 13.7" × 32.1"
Brightness
16,000 lm (4-Lamps, Lamp power: Auto, Image select: Dynamic/Standard, Advanced color: Auto, Optional lens: ET-ELS03)
Power Supply
200-240 V AC(11A), 50/60 Hz
Panel Size
1.8 inches diagonal (4:3 aspect ratio)
Resolution
1,024 × 768 pixels
Operating temperature

5°C-40°C (41°F-104°F)
Operating temperature: 5°C- 40°C (less than 1,800 m above sea level), 5°C- 30°C (between 1,800 m and 2,700 m above sea level), operating humidity: 20%-80% (no condensation)