Panasonic PT-DZ16K
Projector
0E,PTDW10000E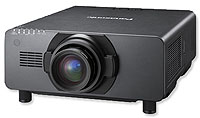 Product Code: PT-DZ16K
This model has been discontinued and replaced by PT-DZ16K2
Splendid Images from a Compact Body
• Panasonic's unique quad-lamp system, with its high-power lamps, has helped to make the body compact while providing an astounding 16,000 lm of brightness
• Compact size, light weight and low operating noise let the PT-DZ16K suit more applications.
• The dynamic iris achieves a high contrast ratio of 10,000:1
• Detail Clarity Processor 3 brings depth and clarity to details.
• System Daylight View 2 enhances color perception with no need to turn off the lights
• The DICOM Simulation mode
• A waveform monitor function
• Fine-adjustable color temperature
• Full 10-bit signal processing
• Advanced technologies for excellent image quality: 3D color management system, HD IP conversion, Digital noise reduction, Dynamic sharpness control.

High Reliability and Low TCO with Easy Maintenance
• Up to 3,000-hour lamp replacement cycle.
• The four-lamp system allows the projector to keep working even if a lamp should fail. The Lamp Relay mode also operates the lamps alternately to enable 24/7 projection.
• Environment-friendly, low power consumption of approx. 2,150 W.
• Easy lamp replacement from the rear.
• Pansonic's original optical engine and liquid cooling system minimize the hassle of maintenance.
• Liquid cooling system allows use in ambient temperatures from 0C to 45C (from 32F to 113F) with a compact body and quiet operation.
• A dust-resistant cabinet and new, reusable "Eco Filter" that needs no replacement for 12,000 hours protect optical components from dust.
• Optical Smoke Cut Filter ET-SFR510 available.

System and Installation Flexibility with Diverse Functions
• A lens-centered design, a wide range of optional lenses, powered H/V-lens shift, and flexible vertical 360-degree installation.
• Lens memory function.
• Lens Lock function to secure the lens installation condition.
• Mechanical lens shutter with fade in/out effect.
• The Multi-Unit Brightness Control function
• The Multi-Screen Support System: Edge blending, color matching and multi-screen processor
• The Geometric Adjustment function
• Abundant terminals, including SDI (3G/HD/SD) DVI-D, and HDMI inputs.
• P-in-P function
• Multi Projector Monitoring & Control Software optionally available
• A Scheduling function
• Art-Net compatible
• Carefully manufactured at the Panasonic factory in Japan, under strict quality control.

DLP™ chip
Panel size
24.1 mm (0.95˝ ) diagonal (16:9 aspect ratio)
Display method
DLP™ chip x 3, DLP™ projection system
Pixels
2,073,600 (1,920 × 1,080) × 3, total of 6,220,800 pixels
Lens
Optional powered zoom/focus and xed-focus lens
Lamp
420 W UHM lamp × 4, replacement cycle of up to 3,000 hours*2
Screen size (diagonal)
1.78 – 25.4 m (70 – 1000 in), 1.78 –15.24 m (70 – 600 in) with the ET-D75LE8, 16:9 aspect ratio
Brightness*1
16,000 lm (four-lamp)
Center-to-corner uniformity*2
90 %
Contrast ratio*1
10,000:1 (full on/off, with DYNAMIC IRIS set to "3") 1,920 × 1,080 pixels
Resolution
1,920 × 1,080 pixels
Screen size
1.78–15.24 m (70–600 inches),
1.78–7.62 m (70–300 inches)
with the ET-D75LE50, 4:3 aspect ratio
Optical axis shift
Vertical: ±55 % (±44 % with the ET-D75LE6) from center of screen (powered)
Horizontal: ±20 % (±15 % with the ET-D75LE6) from center of screen (powered)
Scanning frequency
SDI
3G-SDI
SMPTE ST 424 compliant, [ YCBCR 4:2:2 10-bit] 1080/50p, 1080/60p, [RGB 4:4:4 12-bit/10-bit] 1080/50i, 1080/60i, 1080/25p, 1080/24p, 1080/24sF, 1080/30p
HD-SDI
SMPTE ST 292 compliant, [ YCBCR 4:2:2 10-bit] 720/50p, 720/60p, 1035/60i, 1080/50i, 1080/60i, 1080/25p, 1080/24p, 1080/24sF, 1080/30p
SD-SDI
SMPTE ST 259 compliant, [ YCBCR 4:2:2 10-bit] 480i, 576i
HDMI/DVI-D
480i*7, 480p, 576i*7, 576p, 720/60p, 720/50p, 1080/60i, 1080/50i, 1080/24p, 1080/24sF, 1080/25p, 1080/30p, 1080/60p, 1080/50p
VGA (640 × 480)–WUXGA*8 (1,920 × 1,200), compatible with non-interlaced signals only, dot clock: 25–162 MHz
RGB
fH: 15–100 kHz, fV: 24–120 Hz, dot clock: 162 MHz or less
Video/Y/C
fH: 15.75 kHz, fV: 60 Hz [NTSC/NTSC4.43/PAL-M/PAL60], fH: 15.63 kHz, fV: 50 Hz [PAL /PAL-N/SECAM]
Terminals
SDI IN
BNC x 1 (3G/HD/SD-SDI)
DVI-D IN
DVI-D 24-pin × 1 (DVI 1.0 compliant, compatible with HDCP, compatible with single link only)
HDMI IN
HDMI 19-pin × 1 (Deep Color, compatible with HDCP)
RGB 1 IN
BNC × 5 (RGB/ YPBPR / YCBCR / YC × 1)
RGB 2 IN
D-Sub HD 15-pin (female) × 1 (RGB/ YPBPR / YCBCR × 1)
VIDEO IN
BNC x 1 (composite video)
SERIAL IN
D-sub 9-pin (female) x 1 for external control (RS-232C compliant)
SERIAL OUT
D-sub 9-pin (male) x 1 for link control
REMOTE 1 IN
M3 x 1 for wired remote control
REMOTE 1 OUT
M3 x 1 for link control (for wired remote control)
REMOTE 2 IN
D-sub 9-pin (female) x 1 for external control (parallel)
LAN
RJ-45 x 1 (for network connection, 10Base-T/100Base-TX, compliant with PJLink™)
Keystone correction range
Vertical: ±40°*6, horizontal: ±15°
Installation
Ceiling/floor, front /rear, portrait*7
Cabinet materials
Molded plastic
Power supply
220-240 V AC, 50/60 Hz
Power consumption
2,150 W (0.3 W with STANDBY MODE set to ECO*5, 9 W with STANDBY MODE set to NORMAL.)
Dissipation BTU
120 V: 3,413 BTU/hour
(without light output: 3,249 BTU/hour).
220–240 V: 3,311 BTU/hour
(without light output: 3,147 BTU/hour)
Dimensions (W x H x D)
620 × 291*10 × 800 mm (24-7/16 × 11-15/32*10 × 31-1/2 in)(optional lens not included)
Weight
Approximately 43 kg (94.8 lbs)(optional lens not included)
Operating Environment
Operating temperature: 0 °C– 45 °C (32 °F–113 °F )*3, operating humidity: 10%–80% (no condensation)
Operation noise
TBD
Applicable software
Logo Transfer Software, Multi Projector Monitoring & Control Software
Supplied accessories
Power cord with secure lock, wireless/wired remote control unit, batteries (R6/A A type × 2)