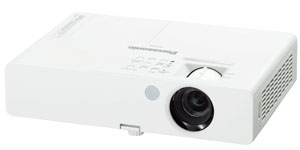 Panasonic PT-SX320A LCD Projector ideal level of brightness for use in brightly lit places
Product Code: PTSX320A


Features
• Compact design delivers up to 3,200 Im brightness
• Easy to Carry and Excellent Performance
• Flexible Usability
• Easy Operation and Variety of Useful Features
Excellent Performance and Flexibility in a Compact Body
The PT-SX320A Series are stylish, compact projectors for corporate users. They provide the ideal level of brightness for use in brightly lit places. They also offer wireless option* and other excellent functions.

• A4-file size and approx. 2.3 kg body
• Clear images in bright places
• Projects in various locations
• Easy projection from a Wireless devices

* The optional ET-WML100E Wireless Module is required.
Power supply
AC100-240 V 50 Hz/60 Hz
Power consumption
295 W (0.5 W when STANDBY MODE set to ECO, 8W when STANDBY MODE set to Normal.)
LCD panel
Panel size
16 mm (0.63 inches) diagonal (4:3 aspect ratio)
Display method
Transparent LCD panel (x 3, R/G/B)
Drive method
Active matrix
Pixels
786,432 (1,024 x 768) pixels
Lens
Manual zoom (1.2 x), Manual focus lens, F=1.65–1.93, f=18.53–22.18 mm, Throw Ratio: 1.4–1.7:1
Lamp
230 W UHM lamp
Lamp replacement cycle*1 (lamp control: Normal/Eco): 4000 h/5000 h
Screen size
0.84–7.62 m (33–300 inches) diagonally
Brightness*2
(Lamp control: Normal)
3,200 lm
Center-to-corner uniformity*2
80 %
Contrast*2
2,000:1 (Lamp control: Normal, Image mode: Dynamic, Auto Powersave: Off)
Resolution
1,024 x 768 pixels*3
Scanning frequency
HDMI IN
525i (480i)*5, 625i (576i)*5, 525p (480p), 625p (576p), 750 (720)/60p, 750 (720)/50p,
1125 (1080)/24p, 1125 (1080)/24sF, 1125 (1080)/60i, 1125 (1080)/50i, 1125 (1080)/25p,
1125 (1080)/30p, 1125 (1080)/60p, 1125 (1080)/50p
Dot clock: 25–162 MHz (640 x 400 pixels to 1920 x 1200 pixels)
RGB
fH: 15–91 kHz, fV: 24–85 Hz, dot clock: 162 MHz or lower
YPBPR (YCBCR)
fH: 15.7 kHz, f V: 59.9 Hz [525i (480i)],
fH: 15.6 kHz, f V: 50.0 Hz [625i (576i)],
fH: 31.5 kHz, f V: 59.9 Hz [525p (480p)],
fH: 31.3 kHz, f V: 50.0 Hz [625p (576p)],
fH: 45.0 kHz, f V: 60.0 Hz [750 (720)/60p],
fH: 37.5 kHz, f V: 50.0 Hz [750 (720)/50p],
fH: 33.8 kHz, f V: 60.0 Hz [1125 (1080)/60i],
fH: 28.1 kHz, f V: 50.0 Hz [1125 (1080)/50i],
fH: 28.1 kHz, f V: 25.0 Hz [1125 (1080)/25p],
fH: 27.0 kHz, f V: 24.0 Hz [1125 (1080)/24p],
fH: 27.0 kHz, f V: 48.0 Hz [1125 (1080)/24sF],
fH: 33.8 kHz, f V: 30.0 Hz [1125 (1080)/30p],
fH: 67.5 kHz, f V: 60.0 Hz [1125 (1080)/60p],
fH: 56.3 kHz, f V: 50.0 Hz [1125 (1080)/50p]
Video/S-Video
fH: 15.7 kHz, f V: 59.9 Hz [NTSC / NTSC4.43 / PAL-M / PAL60],
fH: 15.6 kHz, f V: 50.0 Hz [PAL / SECAM / PAL-N]
Keystone
correction range
Vertical
±30°
Horizontal
±30°
Installation
Ceiling/floor, front/rear
Terminals
HDMI IN
HDMI 19-pin x 1, Deep Color, compatible with HDCP,
Audio signal: Linear PCM (sampling frequencies: 48 kHz, 44.1 kHz, 32 kHz)
COMPUTER 1 IN
D-sub HD 15-pin (female) x 1, compatible with RGB/YPBPR (YCBCR) /YC
RGB
0.7 Vp-p, 75 ohms (SYNC IN GREEN: 1.0 Vp-p, 75 ohms),
SYNC/HD: TTL high impedance, automatic positive/negative polarity compatible,
VD: TTL high impedance, automatic positive/negative polarity compatible
(The SYNC/HD and VD terminals do not support 3 value SYNC.)
YPBPR
Y: 1.0 Vp-p (including sync signal), PB/PR: 0.7 Vp-p, 75 ohms
Y/C
Y: 1.0 Vp-p, C: 0.286 Vp-p, 75 ohms
VIDEO IN
Pin jack x 1, 1.0 Vp-p, 75 ohms
AUDIO IN
M3 jack x 1
SERIAL IN
D-sub 9-pin (female) x 1 For external control (RS-232C compatible)
VIEWER / WIRELESS
USB type A x 1 (output DC 5 V, max.500 mA)
Memory Viewer / Wireless module (Model No.: ET-WML100E) compatible
Built-in speaker
1 W (monaural)
Cabinet color
White
Dimensions (W x H x D)
307 mm x 80 mm (when legs at shortest position) x 210 mm (12-3/32 x 3-5/32 x 8-1/4 inches)
Weight
Approx. 2.3 kg (5.1 lbs)
Operating temperature
0 °C (32 °F) to 40 °C (104 °F) (Elevation: below 1,400 m (4,593 ft);
When the ambient operating temperature is 35–40 °C (95–104 °F),
[Lamp Power] will switch automatically to [Eco mode].)
0 °C (32 °F) to 35 °C (95 °F) (Elevation: 1,400 m (4,593 ft)–2,700 m (8,858 ft))
Operating humidity
20-80 % (no condensation)
Supplied accessories
Wireless remote control unit (x 1), Power cord (x 2), Power cord safety hook,
CD-ROM (x 1) ··· Logo Transfer Software,
Batteries for remote control (R03/LR03/AAA type battery (x 2)),
RGB signal cable (x 1)

*1 This value is calculated by continuously turning the lamp on for 3.5 hours and off for 0.5 hours.
*2 Measurement, measuring conditions, and method of notation all comply with ISO 21118 international standards.
*3 Input signals that exceed this resolution will be converted to 1,024 x 768 pixels.
*4 Input signals that exceed this resolution will be converted to 1,280 x 800 pixels.
*5 Pixel-Repetition signal (dot clock frequency 27.0 MHz) only