---
7% Goods Service Tax (GST) will be imposed over the total invoice value if purchased locally in Singapore. However if you are a tourist visiting Singapore, this GST amount can be refunded at the Changi International Airport Departure Hall GST Refund Centre before departure with goods within 2 months from the date of purchase. Please note that only Tourists who have met the Tourist Refund Scheme's conditions and eligibility criteria can claim for the GST refund. Please visit: https://www.iras.gov.sg/IRASHome/GST/Consumers/Tourist-Refund-Scheme/ for GST Guide for Visitors on Tourist Refund Scheme.
Panasonic AW-RP60 Compact Remote PTZ Camera Controller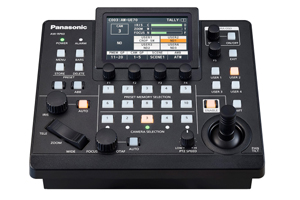 Product Code: AWRP60


Panasonic AW-RP60 Compact Remote PTZ Camera Controller
Introducing the all-new Panasonic AW-RP60 Remote Camera Controller. Equipped with a large LCD to display a GUI menu screen with clear visibility and an improved joystick for smoother control, this controller is the ideal companion to Panasonic PRO PTZ camera models. Thanks to the improved GUI, all important information about the cameras, such as iris, zoom and focus can be seen at all times directly on the screen.

The Panasonic AW-RP60 is also capable of supporting up to 200 cameras, manages 100 presets and comes with PoE support allowing for easy integration into your video production workflow.

3.5″ LCD Screen
The Panasonic AW-RP60 controller is equipped with a 3.5″ LCD screen to deliver a GUI menu where the information you need is provided at a glance for intuitive and quick camera control.

Flexible Customization
The controller is equipped with 4 user assignable buttons to which up to eight functions of your choice can be assigned. Each preset name can also be customized with a PC tool. The flexible features of the controller make it perfect for use in a wide range of environments, from lectures and corporate seminars to live streaming and broadcasting at sporting events.

Advanced Joystick
The Panasonic AW-RP60 new joystick supports smooth pan and tilt operations and ensures accurate capture of your target image. The grip of joystick is approximately 1.5x larger than the previous model, AW-RP50, allowing for an even more stable PRO PTZ camera operation.

PoE Support
PoE (Power over ethernet) support enables power and camera control to be delivered via a single ethernet cable. In addition to camera control operation, gamma, white balance and other color adjustment functions can be performed, making advanced camera adjustments possible.
| | |
| --- | --- |
| Current consumption | 12 V DC (10.8 V to 13.2 V) |
| Mass | W 210 mm x H 92 mm x D 177 mm (excluding protrusions) |
| Dimensions (W x H x D) (inch) | 3.5-type liquid crystal (QHD 960 x 540) |
| Connection Specifications | IEEE802.3af standard: 42 V to 57 V DC (Camera Input) |
| Note | *PoE is the abbreviation for Power over Ethernet. |