---
7% Goods Service Tax (GST) will be imposed over the total invoice value if purchased locally in Singapore. However if you are a tourist visiting Singapore, this GST amount can be refunded at the Changi International Airport Departure Hall GST Refund Centre before departure with goods within 2 months from the date of purchase. Please note that only Tourists who have met the Tourist Refund Scheme's conditions and eligibility criteria can claim for the GST refund. Please visit: https://www.iras.gov.sg/IRASHome/GST/Consumers/Tourist-Refund-Scheme/ for GST Guide for Visitors on Tourist Refund Scheme.
Panasonic AW-RP50 Sub Compact Remote Camera Controller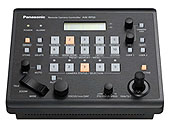 Product Code: AWRP50


This remote camera controller unit can control up to one hundred AW-HE50 series cameras via IP, and up to five Panasonic cameras and pan-tilt heads using RS-422 serial control. The RP50 is capable of accessing up to 100 presets for each Panasonic Integrated PTZ camera (the AW-HE50 and AW-HE100), and up to 50 presets for other Panasonic AW-series pan-tilt heads.

The half-rack width RP50 has a simple, ergonomic design for easy operation in a wide range of applications - including remote production, sports, education, legislative TV, and house of worship use. In addition to easy, precise pan, tilt, zoom, focus, iris, white balance, black balance, and shutter adjustments, the RP50 also provides direct setting of detail, R/B gain, and R/B pedestal adjustments on many cameras for convenient matching of video output. Camera menu access is also provided for adjustment of other parameters.

The RP50 remote control also connects to the AW-HS50 switcher via IP for synchronized use at a distance or for easy control of both units by a single local operator. The controller measures 8 1/4" W x 2 5/8" H x 6 15/16" D and weighs just over four pounds.

Remote Camera Control:
Protocol:
IPv4, RS-422 (Panasonic AW series protocol)
Connection #1:
Serial : Up to 5 cameras
IP : Up to 100 cameras
(Up to 100 when Serial and IP are used together)
Adjustment functions:
Pan/Tilt, Zoom, Focus, Iris, Gain, Pedestal, Shutter,
Detail, White Balance (Auto, R/B Gain),
Black Balance (Auto, R/B Pedestal), Switch scene files
Preset Memory:
Up to 100 sets
Switcher Control:
Connection #2:
IP : 1
Switcher supported:
AW-HS50
Linkage:
Camera information display, Tally information imported,
Bus material selection (AUX/PVW/PinP/KEY-F),
Parameter Changes (Pan/Tilt lever, Zoom button)
Interface:
LAN:
10BASE-T/100BASE-TX (for IP control)/RJ45 x 1
TO PAN/TILT HEAD:
RS-422 (for Serial control)/RJ45 x 5
TALLY/GPI:
TALLY INPUT x 5 channels / D-sub 15 pin
GPI INPUT x 4 channels / (female) x 1
GPI OUTPUT x 4 channels
Operating Temperature:
0 ° C to +40 ° C (32 °F to 104 °F)
Operating Humidity:
10 % to 90 % (no condensation)
Power Supply/Power Consumption:
DC12 V ±10 % (AC adapter provided), 0.5 A / DC IN x 1
Dimensions (W x H x D):
210 mm x 67 mm x 177 mm
(8-1/4 " x 2-5/8 " x 6-15/16 ") (excluding protrusions)
Weight:
Approx. 1.1 kg (2.4 lbs.) (without options)
Standard Accessories:
AC Adaptor, Power Cable