Teradek Cube 500 SD H.264 Video Encoder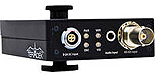 Product Code: CUBE500
Discontinued

Overview:
Cube 500 features a composite input and wired Ethernet output - it is not compatible with WiFi.

Teradek Cube is a powerful, compact wireless solution for local monitoring on iOS devices, streaming to the Web, or transmitting video point to point over the Internet. Cube utilizes high profile H.264 compression and supports resolutions up to 1080p at 5mbps over dual band a/b/g/n WiFi or 10mbps over Ethernet.

Simple Setup
Cube's web interface features a Setup Wizard to simplify configuration. After connecting video and powering-up Cube, create a network, logon to Cube's web interface, complete the Setup Wizard, and begin streaming video.

Advanced Compression
Cube uses H.264 High Profile (Level 4.1) video compression, which is the most advanced compression algorithm in the world today, and it features a built-in scaler to convert from 1080 to 720, 480 or 240 resolutions. Users can choose a resolution and target bit rate based on the availability of IP bandwidth. Typical bit rates for HD are between 2-4Mbps, and SD bit rates are typically sub-1Mbps. Cube's end-to-end latency is approximately 1/8-1/2 second.*

Small Size
Cube is tiny (about the size of a deck of cards), uses only 2.5W - 3.8W of DC power, and weighs only 7 ounces, and mounts easily to a rail system, cage, hotshoe, or camera baseplate. Cube's line-of-sight WiFi range is approximately 300 feet when used with a high quality WiFi access point. Cube has been tested extensively with RED ONE, Arri Alexa, Panavision Genesis, Canon 5Dii, Canon 7D, various handi-cams and more.

The Teradek Cube 500 is an H.264 encoder that transmits SD video over Ethernet and cellular. This unit does not include WiFi.
| | |
| --- | --- |
| Video Input: | Analog BNC |
| WiFi: | None |
| Video Output: | None |
| Mount: | Hot Shoe Mount |
| Display: | None |
| Battery: | None |
| Power Input: | 4 Pin Lemo Power |
| Power Output: | None |
| Storage: | None |
| Ethernet: | 10/100BASE-T |
| USB: | USB 2.0 host port |
| Audio: | Analog Line or Mic in |
Technical Specifications:
VIDEO INPUTS
Analog BNC

SUPPORTED RESOLUTIONS
576i (PAL)
480i (NTSC)

VIDEO CODEC
Compression Algorithm: High Profile H.264
Bit Rate: 250 Kbps to 10 Mbps

PHYSICAL
Dimensions: 2.5"W x 3.5"D x .9"H
Weight: 7oz
Nominal Power Consumption: 2.5W - 3.8W
Auxiliary Power Input: 6-28V DC

INTERFACES
Powered USB 2.0 host port

NETWORK
Ethernet: 10/100BASE-T
Network Protocols: TCP/IP, UDP, HTTP, DHCP, NTP, SSL, IGMP
Transport Protocols: RTP, RTSP, RTP over HTTP, MPEG-TS**,
HTTP Live Steaming
Feature-rich WebUI for configuration and control
Point to Point (TCP or UDP), Multiple Unicast (UDP), or Multicast (UDP+IGMP)**

AUDIO
Embedded Stereo
Audio Compression: AAC-LC, MPEG Layer 2
Line or Mic in

ENVIRONMENTAL
Temperature: 0 to +50 C
Humidity: 95% non condensing


**Optional.