Teradek Chimera Network Video HD H.264 Encoder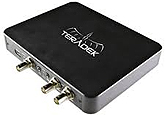 Product Code: CHIMERA
Discontinued

Overview:
The Chimera Advantage
Chimera's encoder utilizes H.264 High Profile Level 4.1, which is an advanced compression algorithm providing a 2:1 reduction in bit rates with equal image quality when compared to MPEG2. Mobile broadcasters who previously would have broadcast using half D1 can specify full D1 or even HD without exceeding their bandwidth allocation.


Features:
•Professional 1080p HD Video Encoding Over IP
Chimera is a professional broadcast network video HD H.264 codec that can encode or decode nearly any resolution up to 1080p60. Chimera accepts 3G-SDI / HD-SDI / SD-SDI. Chimera decodes 1080p HD H.264 or MPEG2 video. Chimera's 1080p HD video over IP is Blu-ray quality, with extremely low latency and efficient network bandwidth use.

• Small, Efficient, Rugged, Reliable
Chimera is extremely rugged and features extremely low power consumption, an embedded operating system, no moving parts, a small form factor in a hardened solid milled aircraft grade 6061-T6 enclosure. Chimera excels in mobile applications where size, weight, and power consumption must be minimized. Chimera is extremely energy efficient. Chimera's hardware compression provides the highest performance at the lowest power consumption. Chimera has both power over ethernet (PoE) or DC power providing redundant power sources to further increase reliability.

• 3G-SDI Plus Gigabit Ethernet or DVB-ASI
Chimera's 3G-SDI input supports HD Video with embedded audio up to 1080p60. The H.264 stream is output over an EN 50083-9 compliant DVB-ASI output using MPEG-TS for professional broadcasting applications, or over IP in a variety of formats. Chimera also features HDMI/DVI output for displaying HD video with a screen resolution of up to 1920 x 1080. The built-in scaler and compositing engine allows any output resolution to be displayed on any output.

• Built-in Web Server and Feature Rich Web User Interface
Chimera provides an advanced web server that automatically pairs with other Teradek devices independent of network infrastructure simplifying installation and use. Chimera's WebUI is simple yet sophisticated allowing the user to easily configure and control the unit.

Applications:
• Professional Broadcast
• Mobile News Broadcasting
• Sports TV
• Distance Learning
• Religious Broadcasting
• Government Video
• Defense
• Telemedicine
• Mobile Applications
• Digital Signage
• Surveillance
• Law Enforcement

Additional Features:
• 1080p60 Blu-Ray Quality Video Over Any IP Network or ASI
• H.264 High Profile (L4.1) Video Compression, QCIF to 1080p
• 3G-SDI, HD-SDI, SD-SDI Looping Video Input
• Small, Hardened Enclosure, Low Power Consumption
• 24/7 Reliability with No Moving Parts
• Gigabit Ethernet, PoE & USB 2.0 Connectivity
• DVB-ASI I/O, MPEG-TS Encapsulation
• Built-in Web Server with Advanced WebUI
• Auto Discover, Auto Config., Distributed C3
• Designed & Manufactured in California, USA

Technical Specifications
Video Input
• 1ch. 3G-SDI, HD-SDI, SDI
• 1ch. DVB-ASI

Video Output
• 1ch. 3G-SDI, HD-SDI, SDI
• 1ch. HDMI/DVI 1080i60/50
• 1 ch DVB-ASI MPEG-TS encapsulated H.264

Audio
• Inputs: Embedded SDI, 3.5mm Stereo Analog Outputs: Embedded SDI,
• Embedded HDMI, 3.5mm Stereo Analog

Codec
• Compression Algorithm: High Profile H.264 (L4.1), MJPEG, MPEG-TS
• Bit Rate: 64 Kbps to 20 Mbps
• Resolution: HD (1920 x 1080), 720p
• Audio Compression: AAC, MP2
• Decode Algorithm: H.264 High Profile (L4.1), MPEG2, MJPEG, MPEG-TS
• No. Channels Decoded: 1 HD or 4 D1 or 6 CIF

Network
• Ethernet: 10/100/1000 Base-T
• Ethernet Protocols: TCP/IP, UDP, HTTP, DHCP, NTP, RTP, RTSP, RTP/RTSP over HTTP, SSL, MPEG-TS, IGMP, Multicast, MPEG-TS over HTTP-Live
• Advanced built-in web server, with feature-rich WebUI
• Point to Point (TCP or UDP), Multiple Unicast (UDP), or Multicast (UDP+IGMP)

Interfaces
• USB 2.0: 2 Powered Ports
• RS485, RS422, RS232: 1 ea.
• PTZ & POS Integration
• Wifi/GPS/GSM Connectivity: Contact Teradek for list of tested peripherals.

Physical
• Dimensions: 7"W x 5.75" D x 1.6875" H
• Weight: Approx. 1 lb.
• Nominal Power Consumption: 6W
• PoE: 802.3af Compliant
• Auxiliary Power Input: 9-30V DC
• EMC Emission: EN 55022, FCC Ch 15 Subpart B
• EMC Immunity: EN 55024

Environmental
• Temperature: 0 to +50 C
• Humidity: 95% non condensing