CL-2 Remote Fader Controller for 788T Recorders
The CL-2 Remote Fader Controller adds a remote level control to any 788T input with its 30mm linear fader. Additionally, its two, two-position programmable toggle switches can be assigned device control or activate menu selections.
The Cl-2 can be mounted directly to a boom pole with the included fasteners, or can be placed on the sound cart or held in hand. Its three status LED's indicate record status, record media readiness, and power. Common uses for the switches include remote-record control, tone activation, PFL activation of an input, and playback control.
The CL-2 is connected to the 788T using its C. Link connection via the included 1.8-meter flexible cable.
All control and setup of the CL-2 is accomplished in the 788T recorder Setup Menu.

The CL-2 Remote Fader is an optional accessory for the 788T/788T-SSD Digital Recorders. The unit's linear fader can be programmed for fader control of any 788T input. The CL-2 can be mounted directly to most boom poles for easy level control of the assigned channel. The CL-2 is also usable in-hand or placed a fl at surface. The CL-2 is also equipped with four programmable switches (two momentary, two latching) which are assigned from the 788T to control various 788T functions, including Record On and Off. The 30 mm fader and switches are positioned for ease-of-use by both left- and right-handed users.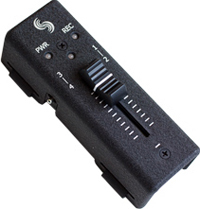 Product Code:SDCL2
Discontinued
Specifications of CL-2
Fader
30 mm
Logic Switches
two switches, both with momentary and latching positions, assignable to multiple functions.
Straps
military grade Nylon hook and loop fasteners, 7" x 1", count of two
Included RJ Cable
6' CAT5-FLEX Male to Male
Powering
Powered by the 788T via the C.Link connector
Dimensions
1.24" (1.7" w/ fader) x 1.43" x 4.23" (H x W x D)
Weight
4 oz