CL-WIFI Interface for 788T
Description
The CL-WIFI is a hardware accessory that provides the 788T and 788T-SSD Digital Recorder with WiFi connectivity. With a CL-WIFI connected to a 788T over the C.Link connection, the 788T is controllable by an Apple iOS device, such as an iPad, iPhone, or iPod Touch running iOS version 4 or greater, users can control a 788T with the free CL-WiFi Controller app (see below).

The CL-WIFI hardware requires a 788T or 788T-SSD running firmware revision 2.14 or greater.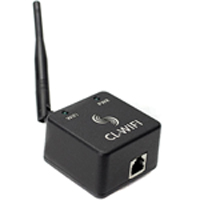 Product Code:SDCLWIFI
Discontinued