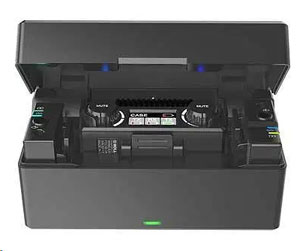 Hollyland LARK 150 Dual Channel Wireless Microphone System
Product Code:LARK 150


7% Goods Service Tax (GST) will be imposed over the total invoice value if purchased locally in Singapore. However if you are a tourist visiting Singapore, this GST amount can be refunded at the Changi International Airport Departure Hall GST Refund Centre before departure with goods within 30 days from the date of purchase. Please note that only Tourists who have met the Tourist Refund Scheme's conditions and eligibility criteria can claim for the GST refund. Visit the following link for GST Guide for Visitors on Tourist Refund Scheme. https://www.iras.gov.sg/IRASHome/GST/Consumers/Tourist-Refund-Scheme


Hollyland LARK 150 is a compact 2.4 GHz digital wireless microphone system. It consists of 2 TX & 1 RX Combo, it is widely using by videographers, vloggers and mobile journalists. Plug and play, the system can make you focus on getting the shot.

The transmitter designed with a built-in omnidirectional microphone and also can use it as a lavalier mic. The receiver Equipped with a OLED display shows battery status, audio level, signal strength and more. Hollyland LARK 150 is delivering professional-grade sound quality of a range up to 100m with a 5ms ultra low latency. It provides 3 recording modes, mono, stereo and safety mode.

The receiver's 3.5mm TRS output sends a mic-level signal, making it compatible with an array of devices such as DSLRs, portable audio recorders, computer and so on. And the charging case design that serves easy charging, auto-pairing, upgrade and storage for the whole system.
- 5ms latency with range up to 100m
- Combo 2 TX and 1 RX
- 2.4 GHz wireless digital transmission with clear sound under any conditions
- Compact size with light weight
- Professional-grade sound quality
- Integrated lithium batteries, with an ultra long run time
- 21-stage digital gain adjustment
- Contact charging in the case
- Multiple systems using in one location

| | |
| --- | --- |
| System | |
| Wireless Transmission | Digital 2.4 GHz |
| Configuration | Transmitter, Receiver, Charging Case |
| Transmission Range | 100m |
| Latency | 5ms |
| Dynamic Range | 100 dBA |
| Encryption | 128-Bit |
| Max Systems per Setup | 8 |
Transmitter
Installation
Lavalier
Dimensions
37*37*17.5mm
Weight
20.5g
OLED Display
None
MIC
Support Built-In and Lavalier Mic
Interface
1 x 3.5 mm TRS Female Input(For Lavalier Mic)

1 x Charging/Upgrading Contacts

Polar Pattern
Omnidirectional
Frequency Response
20Hz~20KHz
Reference Audio Input Level
-65 dBV
Power
200mAh Built-In Battery
Battery Type
Rechargeable
Battery Charging Time
1.5h
Battery Life
4.5h
Indicators
1 x LED(Link Status)

1 x LED (Battery Status)
Receiver
Installation
Belt Clip
Dimensions
67*41*20.5mm
Weight
51g
OLED Display
Yes
Interface
1 x 3.5 mm TRS Output Interface

1 x 3.5mm Headset Interface

1 x Charging/Upgrading Contacts

Gain Range
-10~+10dB
Audio Output Level Change Range
21-State:45dB
Power
530mAh Built-In Battery
Battery Type
Rechargeable
Battery Charging Time
2h
Battery Life
7.5h
Display & Indicators
1 x OLED(Recording Mode, UV Level, Battery Status, Signal Strength)

2 x LED(Link Status)
| | |
| --- | --- |
| Charging Case | |
| Dimensions | 121*61*43.5mm |
| Weight | 227.5g |
| Interface | 1 x USB Type-C Interface |
| Power | 3350mAh Built-In Battery or DC |
| Battery Type | Rechargeable |
| Battery Charging Time | 2.5h |
| | |
| --- | --- |
| Microphone | |
| Polar Pattern | Omnidirectional |
| Sound Field | Mono/Streo |
| Frequency Range | 20Hz~20KHz |
| Maximum Input Sound Pressure Level | 100dB SPL(1KHz@1m) |