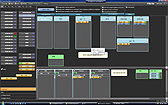 Product Code: ProductionMaestroPro




The Production Maestro Pro application provides a centralized routing tool for enabling simple and reliable routing of 4-wire lines and allows operators to control small or large networked intercom systems. It is a multi-user, multi-matrix PC based software package which provides fast, intuitive audio routing control for Eclipse Intercom systems. Production Maestro Pro can manage and preset live external lines in and out of a Master Control Room of sports venue control center to groups of remote users' panels and their keys.

The user interface is designed with simplicity in mind. Key elements can be dragged and dropped with the click of a mouse, making complex configuration an easy ad intuitive process. The Production Maestro Pro's graphical interface has two primary components: the left hand Port Palette anf the right hand Central Canvas. Conferences can be freely positioned and sized on the Central Canvas and 4-wire ports can be freely arranged on the Port Palette. The Port Palette and Canvas layouts may be saved for later use. The Production Maestro Pro screen includes two theme options, standard white or black.

Production Maestro Pro's Clear-Vu Audio Metering enables visual audio levels on a PC screen using real-time graphical meters. Clear-Vu provides both activity and level monitoring of feeds with a glance, while reducing the need for multiple monitoring speakers.

Note: Production Maestro Pro can only be used in conjunction with Eclipse Configuration Software (ECS) and requires Eclipse version 5.1.3 or newer. Use of the Clear-Vu Audio Metering requires the installation of the LMC-64 Card in the Eclipse matrix System and requires version 5.2 or newer.

Specifications of Production Maestro Pro
| | |
| --- | --- |
| Max number of conferences assignable: | All system conferences |
| Max number of directs assignable: | All system directs |
| Max number of IFB's assignable: | All system global IFB's |
| Max number of matrices supported: | 15 matrix frames |
| Max number of clients connecting to one matrix: | Up to 10 clients |
| Max number of key groups: | 100 system wide |
| Audio level control | cut to +18dB |
| Supported Operating Systems: | Windows Server 2003, Windows XP, Windows Vista |
| PC Requirements: | Microsoft WEI (base score of 3.0 or higher), Combo DVD drive, 10 GB free HDD space, Ethernet port, scroll wheel mouse |