Sony

LMD-1510W
15.6" Widescreen Entry-level

LCD monitor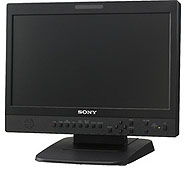 Product Code: LMD1510W
Discontinued
The LMD-1510W is a 15.6-inch WXGA (1366 x 768) multi-format professional monitor specifically designed to provide reference video monitoring solution for entry-level video applications. A 10-bit processor ensures accurate picture reproduction with less image artefacts. Combined with a high purity filter, the LMD-1510W provides excellent colour depth for precise colour reproduction. Equipped with a HDMI interface as standard, this entry-level monitor is an ideal match for professional and semi-professional High Definition applications. In addition, the optional adaptor BKM-341HS supports both HD-SDI and SD-SDI inputs. The LMD-1510W wins hands-down in terms of breadth of operation and performance when compared to standard PC monitors: video image reproduction is far superior due to its moving picture optimisation circuitry and colour temperature and Gamma control. Slim and lightweight, the LMD-1510W also offers outstanding installation flexibility. It has a table stand and VESA mount as standard, enabling it to be easily placed on a desktop, in a monitor wall or on a ceiling. Entirely at home in many professional environments, the LMD-1510W truly redefines high performance in the entry-level sector.

Highlights:
• 10bit signal processing & precise picture setting. white reproduction without clipping and a smooth gray scale adjusted along the broadcast standard.
• Five Gamma selection Besides the standard gamma setting (2.2), four other different gamma settings can be selected.
• Color temperature adjustment Besides the two default settings, color temperature can be adjusted manually for precise adjustment.
• IP Mode selection An appropriate IP Mode can be selected among the following two according to the purpose.
• HD/SDI available with the BKM341HS

•
WXGA (1366 x 768) 16:9 LCD panel
Delivers outstandingly crisp, high brightness and high contrast widescreen HD images with a fast transient response.
Cost-effective feature-rich performance
The LMD-1510W offers professional functionality in an economic package. Optimised for moving picture reproduction, it delivers accurate colour rendition and greyscale – thanks to its CRT-like gamma curve. And it sports a wide range of video interfaces and professional features allowing confident video signal evaluation.


•
High-purity colour filter
The LMD-1510W monitor provides high-brightness, high-contrast images thanks to its wide aperture LCD panel. In addition, the use of a precisely manufactured RGB colour filter allows this monitor to reproduce colours with stunning depth and saturation – creating highly natural images.


•
109% peak white and 10-bit signal processing
Incorporating a high-purity RGB colour filter and a 10-bit signal processing engine, the LMD-1510W monitor offers stunning 109% peak white reproduction without clipping, and a smooth grey scale along CRT-like gamma.


•
Safety Area Marker
The LMD-1510W features a Safety Area Marker for a variety of areas: 80%, 85%, 88%, 90% and 93%. An Aspect Marker and Centre Marker are also available.


•
SD Pixel Mapping
The LMD-1510W is able to select the appropriate picture size setting (pixel number) for the SD analogue input signal from two options:
720x576 (50i) / 720x487 (60i)
702x576 (50i) / 712x483 (60i)
SD pixel mapping is applicable to LINE (Composite and Y/C) and RGB/Component (Analogue RGB/Component) inputs.


•
Minimized picture delay
Picture delay can be minimised for audio synchronization. Selecting Line Doubler in I/P mode, the signal processing (I/P conversion) period is less than one field (0.5 frames).


•
Input versatility
The LMD-1510W is equipped with a full range of analogue SD inputs including composite NTSC/PAL, Y/C (S-Video), 525i/625i component, and RGB. This monitor can also handle SD-SDI input using an optional BKM-320D SD-SDI input adaptor. Furthermore, it offers an HD signal input capability via the HDMI and analogue component interface.


•
Optional HD/SD-SDI input
With the BKM-341HS optional adaptor, the LMD-1510W supports both HD-SDI and SD-SDI input, with a higher picture quality and shorter depth compared to the BKM-320D SD-SDI input adaptor.

In case of SD-SDI input only, the BKM-320D can also be used.