9.Solutions Python Clamp With Stud
7% Goods Service Tax (GST) will be imposed over the total invoice value if purchased locally in Singapore. However if you are a tourist visiting Singapore, this GST amount can be refunded at the Changi International Airport Departure Hall GST Refund Centre before departure with goods within 60 days from the date of purchase. Please note that only Tourists who have met the Tourist Refund Scheme's conditions and eligibility criteria can claim for the GST refund. Please visit: https://www.iras.gov.sg/IRASHome/GST/Consumers/Tourist-Refund-Scheme/ for GST Guide for Visitors on Tourist Refund Scheme.
---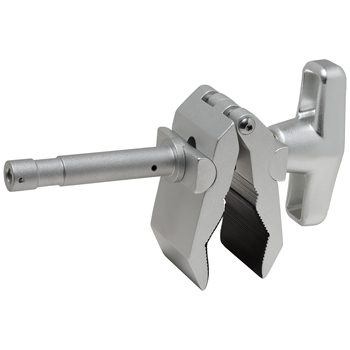 Product Code: 9.VB5081A-H



The Heavy Duty Python Clamp with Stud features a 5/8″ baby pin for mounting standard grip and lighting equipment. The bottom of the pin is tapped with a 3/8″-16 female thread so equipment can be mounted directly to it. It also features a heavy duty T-Handle and a high grade 420 stainless steel threaded rod for added utility and durability.
Weight: 570 g
Clamping Size: 0-50mm
Max Load: 20Kg
Connection(s): 5/8" baby pin (16mm)
– 3/8" tapped hole (at end of baby pin)