---
7% Goods Service Tax (GST) will be imposed over the total invoice value if purchased locally in Singapore. However if you are a tourist visiting Singapore, this GST amount can be refunded at the Changi International Airport Departure Hall GST Refund Centre before departure with goods within 60 days from the date of purchase. Please note that only Tourists who have met the Tourist Refund Scheme's conditions and eligibility criteria can claim for the GST refund. Please visit: https://www.iras.gov.sg/IRASHome/GST/Consumers/Tourist-Refund-Scheme/ for GST Guide for Visitors on Tourist Refund Scheme.
9.Soluions Barracuda Clamp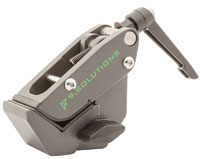 Product Code: 9.VB5080


Barracuda Clamp is the first rate clamp which provides more flexibility and variation than any other clamps. It can be modified to bear any kind of objects such as round, square, or flat. It is able to open completely as well as hold tightly with its extensive strength. It has developed with special mouth design that helps to hold all kind of objects without any support. Barracuda Clamp comes with genuine snap-in socket which helps to lock down while a pin is inserted, enables to hold the equipment in one hand.

• No friction in clamping mechanism while opening and closing
• Stronger clamping force
• Fits with all super clamp adapters and studs
• Snap-in socket locks down on 5/8" pins when inserted
• 0-60mm mouth opening
• Kipp lever for tight spaces
Weight:
550 g
Clamping Range:
0-60mm
Max Load:
20 kg
Connection(s):
(1x) 5/8" Receptacle
(1x) 3/8"-16 Female Thread
(1x) 1/4"-20 Female Thread
(2x) M6 (6mm) Female Thread
(4x) M5 (5mm) Female Thread
(1x) Anchor Point for Cable or Rope