9.Solutions 5/8" Dual Knob Gag Grip rigging
7% Goods Service Tax (GST) will be imposed over the total invoice value if purchased locally in Singapore. However if you are a tourist visiting Singapore, this GST amount can be refunded at the Changi International Airport Departure Hall GST Refund Centre before departure with goods within 60 days from the date of purchase. Please note that only Tourists who have met the Tourist Refund Scheme's conditions and eligibility criteria can claim for the GST refund. Please visit: https://www.iras.gov.sg/IRASHome/GST/Consumers/Tourist-Refund-Scheme/ for GST Guide for Visitors on Tourist Refund Scheme.
---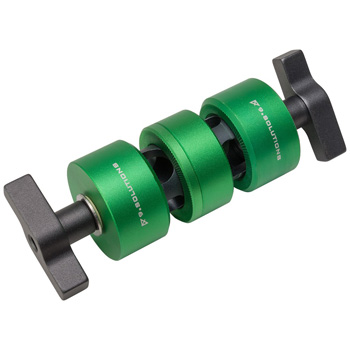 Product Code: 9.VG5096D



The Dual Knob Gag enables independently tightening and clamping of either side of the gag. It features a larger sized cup and ring then the other 9.Solutions gags which makes it ideal to be used as a regular Gobo/grip head.
Weight: 340 grams
Connection(s):
(2x) 5/8" (16mm) Pass-thru Receptacle
(2x) 3/8" (10mm) Pass-thru Receptacle