TASCAM HS-P82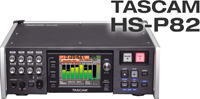 Overview
TASCAM's HS-P82 offers 8 tracks of the highest quality recording, yet it's built for the rigors of location recording with reliable solid-state performance. The HS-P82 is built for location television and film production audio, with eight microphone inputs for big shoots or reality programs. The standard XLR microphone inputs include phantom power and analog limiting, with trims controlled from recessed front-panel controls. In addition to the eight individual tracks, a stereo mixdown can be recorded for instant use during editing.

Audio is recorded at up to 192kHz/24-bit WAV format to a pair of Compact Flash cards. This solid state media is completely reliable with no moving parts, and you can record to both cards simultaneously for extra security. The Broadcast WAV files include iXML metadata for quick import into nearly any video or audio editing system, either via the USB 2.0 connection or a standard card reader.

For multi-microphone music or surround effects recording, the HS-P82 now includes Mid-Side decoding – either recorded to the track or only for monitoring & playback. Microphone gain settings can be ganged together for fades, and inputs automatically mute when the gain is brought to its minimum setting.

The HS-P82 offers several options for power. It runs on either AA or NP batteries, an included AC adapter, external DC input or a V-mount adapter for Endura batteries. An internal slate microphone is available for naming takes. Functions like a 5-second pre-record buffer, front panel lockout and headphone output alert signal further inspire confidence.

For high-resolution music recording, a set of AES/EBU connectors is available for attaching pedigree A/D converters and preamplifiers. SMPTE timecode in and out, video and word sync are provided. All of this is controlled from a color touchscreen interface which makes operation fast and simple.

The HS-P82 from TASCAM is built on 30 years of reliable field recording. See how affordable the state of the art can be with TASCAM's flagship production recorder, the HS-P82.

You may also be interested in the AR-P82 carry case, made in the USA by PortaBrace, and the HS-8 rackmountable recorder for studio playback of HS-P82 recordings.

Specifications
Recording Features:
•Dual Compact Flash recording media supports backup, mirroring and seamless A/B recording*
•Long battery life through low power usage
•Easy to read and operate using pivoting TFT Color Touch Panel interface
•All-aluminum chassis is rugged yet lightweight
•8 -track recording plus stereo mix for a total of 10-track recording
•8-track recording at up to 96kHz/24-bit
•4-track recording at 192kHz/24-bit
•Broadcast WAV (BWF) support with iXML metadata
•Various power options include AA batteries (x10), NP type, AC adaptor, external DC input and optional V-mount adaptor for ENDURA batteries
•Up to 5-second prerecord buffer
•Internal microphone for slate recording
•Limiter and low cut filter per track
•Mid-side microphone decoding – either during recording or on monitor/playback only
•Trim ganging for multi-channel/multi-microphone fades
•Minimum microphone gain setting mutes input
•Auto or manual cue points
•Alert signal to headphone output
•Retake function
•Panel lockout function to prevent accidental transport switching

Inputs/Outputs:
•8 high-quality microphone preamps and A/D converters with independent +48V phantom power for each (standard XLR connectors)
•8 AES/EBU inputs and outputs (DB-25 connector)
•Sampling rate converter on each AES/EBU input
•2 balanced analog outputs (XLR connector)
•Stereo digital output (BNC connector)
•SMPTE Timecode In and Out (BNC connector)
•Video/Word Clock/Cascade I/O (BNC connector)
•Headphone out (1/4" stereo jack)
•PS/2 keyboard input for track naming
•USB 2.0 high-speed data transfer to PC