TASCAM HD-P2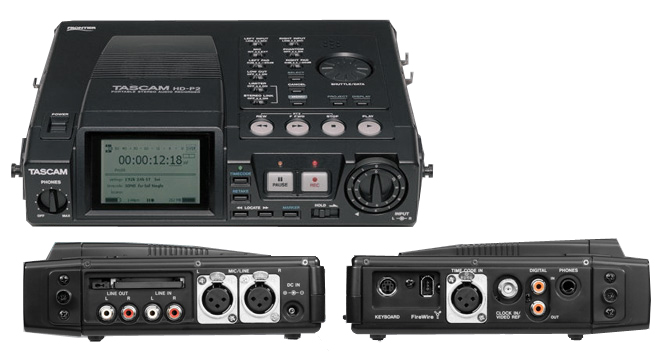 Overview
Answering the call of remote recording engineers, the TASCAM HD-P2 Portable High-Definition Stereo Audio Recorder is the professional solution for challenging live and on-location applications. Co-developed with Frontier Design Group, it records at up to 192kHz/24-bit resolution to Compact Flash media, and its audio files are instantly available to DAWs through the built-in high-speed FireWire computer connection. Unlike consumer MP3 sketchpads, the professional HD-P2 incorporates high-end features like a SMPTE timecode input for synchronization to external devices while in record or playback. The user interface is designed for fast and intuitive use under stressful one-take-only situations, and its large, angled LCD is perfect for any application from over-the-shoulder location recording to concert recording and commercial use.

High-definition Recording, To Go
The HD-P2 records in stereo from 44.1kHz to 192kHz, at 16- or 24-bit, to affordable Compact Flash media. Not only is Compact Flash absolutely silent, so no transport noise will show up on your recording, but the recorded audio is written directly as Broadcast WAVE files for immediate use in digital audio workstations. The unit even includes a FireWire jack for the fastest possible transfer of files to your PC or Mac computer.
The professional design of the HD-P2 extends to convenient details that pro users will appreciate. The Retake button allows the user to delete the last recording and set up to re-record with a single button press. As audio is recorded, the file headers are continually re-saved to protect your recording against accidental data loss. Files can be named from the front panel interface or using a PS/2 keyboard, which can also be used to control transport and setup features.

On the input side, the unit has a pair of XLR mic inputs with phantom power and analog peak limiting to curb distortion during unpredictable live events. The input level control allows the user to change the level without taking their eyes off the action. The HD-P2 also features unbalanced RCA ins and outs as well as S/PDIF digital I/O. Monitoring is available through a headphone out - again, with its own ergonomic level control - using a built-in speaker. A built-in microphone is also provided for interviews and educational use.

Built-in Synchronization - Because Being On Time Shouldn't Have To Be An Option
TASCAM's HD-P2 comes standard with a full-featured timecode input - making it the most affordable recorder with built-in timecode ever made. Incoming LTC is connected to the locking XLR input for timestamping your Broascast WAVE files from a central clock. Not only does the recorder timestamp your recorded audio with sample accuracy, the HD-P2 chases incoming timecode during playback for review or loading into an editor. A video clock input allows frame edge resolve to a central blackburst source or use as a lock-and-release timecode slave. There's also a freewheel setting for use with unpredictable timecode sources.

For maximum compatibility with the post production world, the HD-P2 supports pull-up and pull-down sample rates, even at high-resolution settings. The video clock input accepts tri-level sync for high-definition television production.

On Location, It's More Welcome Than The Craft Service Table
The shoulder-slung design of the HD-P2 with its included locking strap makes it a natural choice for film production recording. The Compact Flash media is safely recessed and latched to prevent accidental ejection, and audio can be recorded locked to timecode and video reference for absolute lock. It runs for approximately 5.5 hours on readily-available AA alkaline batteries, and weighs less than two pounds with batteries installed. At the end of the day, recordings can be instantly transferred to an editor through the FireWire jack or a CF reader for use in a non-linear editor to sync dailies or to conform dialog during post.

Precise recording quality for capturing a live performance
The HD-P2's 192kHz/24-bit recording resolution is so precise, you can almost hear what brand of cork was used for the conductor's baton. Its Compact Flash transport doesn't make any noise, so you don't need to worry about machine noise on the recording. The high-quality mic preamps provide phantom power to handle sensitive condenser microphones, and the analog limiter protects the recording against sudden transient distortion. With the high capacity of today's Compact Flash media, you might even be able to enjoy the performance without constantly watching the time remaining meter.

You don't need a union card to figure it out
Although the HD-P2 was designed for demanding film shoots and live concerts, it's still simple and affordable enough for use in everyday classrooms, churches and home studios. School band and orchestra leaders can use it to record rehearsals for students, and then record concerts to sell for fundraising. House-of-worship leaders can record their services for duplication on CD, and its high-speed FireWire connection provides instant access to the recording, so that CDs can be authored and duplication can begin as the laity files out of the church.

With professional connectivity, built-in synchronization, high-resolution recording and Compact Flash convenience, the HD-P2 is the professional solution for serious recording in a reliable, portable package.

Specifications
HD-P2 Recording features:
•Stereo recording to Compact Flash media
•44.1kHz to 192kHz recording resolution at 16- or 24-bit
•Time-stamped Broadcast WAVE file format is easily imported into DAW software and spotted into projects with sample accuracy
•Retake button allows user to re-do last recording with a single button press
•Audio files continually re-saved to safeguard against data loss
•Comprehensive system and transport control from the front panel or a PS/2 keyboard

HD-P2 Synchronization features:
•SMPTE/LTC timecode input on locking XLR balanced jack
•Timestamps Broadcast WAVE recordings from SMPTE input
•Chase locks to incoming SMPTE timecode
•Video clock input resolves to house clock
•Tri-level sync support for HDTV applications
•Includes Frame Lock, Lock and Release and flexible Freewheel settings for unpredictable timecode sources
•Pull-up and Pull-down sample rates included for video format compatibility

HD-P2 I/O features:
•XLR mic inputs with phantom power and analog peak limiter
•Unbalanced stereo RCA I/O
•S/PDIF digital I/O
•Headphone output
•Built-in mono microphone and speaker for desktop interview applications
•Analog level controls for easy operation without the need to look at the unit
•FireWire interface for fast data transfer to a computer

HD-P2 Convenience Features:
•Familiar tape machine-style layout and function
•Angled screen for table-top or shoulder strap use
•Large, uncluttered LCD display
•Shortcut keys and LED indicators for frequently-accessed functions
•Recessed Compact Flash slot
•Optional carry case (CS-P2)
•Runs on (8) readily available AA batteries or DC power adapter
•Approximately 5.5 hours of operating time on battery power
•10.25"W x 7.75"D x 2.5"H
< 2 lbs with batteries

This chart provides approximate recording times for the TASCAM HD-P2 Portable High-Definition Stereo Audio Recorder. To use the chart, first find the audio resolution you plan to record in - 96kHz/24-bit, for example. Move down the chart to find the length of recording time you need, then move left to see what size Compact Flash card you'll need to use.