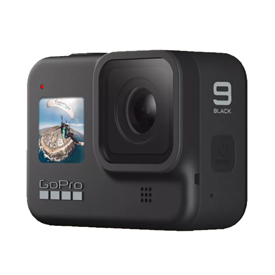 GoPro Hero 9 Black Action Camera Comes with a removable lens cover to keep the device secured
Product Code: Hero9Black
7% Goods Service Tax (GST) will be imposed over the total invoice value if purchased locally in Singapore. However if you are a tourist visiting Singapore, this GST amount can be refunded at the Changi International Airport Departure Hall GST Refund Centre before departure with goods within 60 days from the date of purchase. Please note that only Tourists who have met the Tourist Refund Scheme's conditions and eligibility criteria can claim for the GST refund. Visit the following link for GST Guide for Visitors on Tourist Refund Scheme. https://www.iras.gov.sg/IRASHome/GST/Consumers/Tourist-Refund-Scheme
Stock Available in October


GoPro Hero 9 Black Action Camera
When it is about cameras, you should never settle for anything mediocre, especially if you are planning to use it for professional shooting. One of the most cherished and stunning quality cameras are the ones offered by GoPro.

The most awaited product these days is GoPro Hero 9 Black action camera.

The latest GoPro hero 9 black action camera, is soon going to launch to quench the eagerness of potential customers.

But before that, let's dig into what this camera offers you. We are going to explain every specification and feature this camera got to make your shooting experience a lot better than before.

Who can use the Hero 9 camera?
GoPro Hero 9 Black camera, possessing excellent features, is definitely a videographer and a vlogger's dream. If you're a travel blogger and records while travelling, then this is perfect for you.

It's lightweight hence easy to carry also comes with amazing features like SuperPhoto and HDR to get crystal clear videos, 20 MP camera with front-facing LCD screen for better exposure, voice control for better videos, 33ft underwater recording capabilities and a lot more.

If you are going for hiking, mountain climbing, scuba diving, bungee jumping you can easily carry the GoPro Hero 9 Black for recording.

If you're a YouTuber then also you can think of investing in this camera because it comes with a webcam mode which helps you record in a 132-degree wide field view.

If you're planning to record some sports tournament, you can take this with you.

GoPro Hero 9 Black features, benefits and sophisticated design have been manufactured, keeping in mind the requirements and expectations of potential customers like you. First of all, let's go through the high-end features that have been revealed until now-

- Sio-Mo
- Front-facing LCD screen and Built-in mounting
- Data overlays and Time Warp 3.0
- 1080p live streaming and live burst
- Hindsight and voice control
- Scheduled capture
- Waterproof body with water draining microphone, making the camera perfect for underwater recording (33ft underwater).
- Comes with a removable lens cover to keep the device secured.
- Super Photo features for stunning quality photographs.
- Got in-camera horizon up to 5K and Max Hyper-Smooth and Max SuperView up to 2.7K
- A 5K video is equivalent to 14.7 MP stills in this camera.
- 16 % larger rear touch display features also enable the user to take selfies with full screen, actual screen, status only and a lot more features.
- 30% more battery life.
- Cold temperature adaptive capabilities for providing better recording in cooler areas.
- Hyper smooth feature in all resolutions and frame rates as well as digital lenses from 3.0 to 5K.

The benefits don't stop here. You can also easily stream your recordings on the camera directly on YouTube, Twitch, Facebook pages, and Facebook profiles. You can connect the display mode to the camera via media mode. Also, the impeccable hindsight is another plus point to increase the excellence of your moments captured in your video.

Also, GoPro Hero 9 Black capture or save up 30 seconds of video before the shutter button is pressed. Another unbelievable benefit you get on investing in this camera is scheduling the time to capture videos, photos, and time-lapses. You can set the time for the 24 hours in advance.

You can slow down to real speed and also can capture audio while recording. Even you can go slower with half speed for epic slo-mo.

It enables the user to easily record for specific duration as well. You can set a time span from 15 seconds to 3 hours, and the camera records the shot automatically in the given time period.

It comes with a built-in movable microphone, and users can remove its foam cover for enhanced audio recording as well. Also comes with 2 cold shoe mounts and a 3.5mm mic and a USB C port as well.

It comes with a 2 inch of preview screen that enables you to vlog smoothly along with information of the recording displayed on the screen.

The GoPro Hero 9 Black camera comes with in-built LED lighting for enhanced shooting indoors or darkness. It has 200 lumens and 200 lux at 1m. Also, it can be mounted on all GoPro mounts.

When it comes to appearance, it's black in colour, compact and weather-resistant and easy to handle, design makes it the perfect match to enhance your work and provide you comfort along with top-notch quality recordings. The GoPro Hero 9 Black is ideal for easy storage and travel.