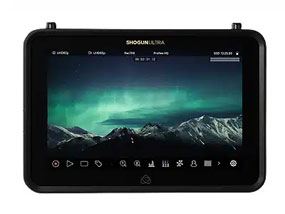 Atomos Shogun Ultra 7-inch Monitor Recorder. Perfect for HDMI mirrorless and SDI cinematic cameras
Product Code: SHOGUNULTRA


Features
• New AtomOS 11 - faster, cleaner, with more features
• Dual 4Kp60 ProRes RAW & proxy recording for Cloud
• 8K ProRes RAW, ProRes, DNxHD & H.265 - all for free
• Auto matched filenames from ARRI, Canon, RED 
& Sony cameras.
• Share live camera views from your Shogun's screen over the internet
• Fast, stable connection to the internet
Atomos Shogun Ultra 7-inch Monitor Recorder

Super bright screen
Shogun Ultra's super-bright, large 7-inch screen is viewable in almost every kind of light. Indoors, outdoors, or anywhere you need critical, viewable, instant feedback on your images. With 2000 nits brightness, it's ideal for checking your HDR footage while you're still on set. Or play back your recently captured shots on the same pristine screen for review or even uploading to the cloud.

Choose your workflow
Shogun Ultra has two faces: Local and Cloud. Use it conventionally, and you have an incredible HDR screen, new monitoring tools and both HDMI and 12G-SDI. Turn on its wireless and network capabilities, and you have access to new and productive cloud workflows like camera to cloud and Atomos Edit. You can even edit your project in the cloud and publish directly to social media within minutes of shooting the action.

Enhance your camera
Shogun Ultra can capture RAW inputs up to 8K at 30fps, 6K at 60fps and 4K at 30fps and simultaneously output a standard viewable video signal via HDMI or SDI for devices that don't support RAW formats. With a super bright 2000nit 7-inch SuperAtom IPS touchscreen for clear images and easy accessibility to the features in AtomOS, Shogun Ultra has a new operating system and user interface.

The Ultimate Shogun
In addition to network and SDI connectivity, you get access to super-efficient cloud workflows, and you can cross-convert between HDMI and SDI. Take advantage of the new, ultra-fast and reliable WiFI 6E for more stable connections. Shogun Ultra, which can be remote-controlled over Bluetooth with AtomRemote App, is the most practical and affordable way to stream, transfer and edit in the cloud.

Any camera, any format. Anywhere.
Pair Shogun Ultra equally well using SDI or HDMI with smaller cameras as part of a minimal setup or with full-size camera rigs on large-scale productions. Shogun Ultra is made from precision materials with a solid aluminium frame, crafted for maximum durability. Weighing only 730g (1.6lbs), you can use it comfortably with a handheld camera. Shogun Ultra includes anti-rotational ⅜ – 16 mount points on the top and bottom. It ships with a ¼ – 20 adaptor for easy mounting on industry-standard equipment from a wide range of manufacturers.

Stream from Anywhere
Shogun Ultra supports live streaming to a range of online services including acebook Live, Twitch, YouTube, and custom RTMP/S. With Wi-Fi 6E, Gigabit Ethernet, and the ability to join cellular hotspots all built-in, Shogun CONNECT helps filmmakers, streamers, and video content producers reach their audience from anywhere.

A complete monitoring toolbox
Shogun Ultra includes comprehensive monitoring tools to help you get the perfect composition and exposure in every shot. Easy-to-use but powerful tools include waveform, focus peaking, multiple false color tools, zoom controls, custom LUTs, and frame guides. Shogun's new AtomOS 11 software is simple to update with new features and releases – as well as support for new cameras.

A highly secure mount
From individuals to large-scale cinema productions, Shogun Ultra has been built to fit into any camera rig. It features a versatile mount that can be adapted to suit different industry-standard equipment from a wide range of manufacturers. Once locked in place the mount is highly secure and offers anti-rotation settings, so you can trust Shogun Ultra to remain in place at all times.

Other Web
Atomos Shogun Ultra
• Support for more camera models with 12G-SDI
• SDI input to HDMI output conversion
• Wi-Fi 6E and 1GbE Ethernet
• Stream to Facebook, Twitch, YouTube, and custom RTMP/S services
• Share media with camera to cloud (C2C) and Atomos Edit
• Live stream an HDMI or SDI source into Atomos Live Production or RemoteView
• Synchronize cameras, audio recorders, and applications with AirGlu
• Support for AtomRemote app
• Add major features without adding significantly to the overall footprint