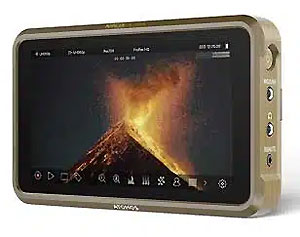 Atomos Ninja Ultra 4K HDMI Recording Monitor. Perfect for Mirrorless & Cinematic Cameras
Product Code: NINJA ULTRA


Features
• Dual 4Kp60 ProRes RAW & proxy recording for offline or Cloud
• Auto matched filenames from ARRI, Canon, RED & Sony cameras
• Share live views from your screen over the internet
• 8K ProRes RAW, ProRes, DNxHD & H.265 - all for free
• Record & upload high bitrate 4K files to the Cloud
• The best. Faster, lower latency, more stable connection
• With EL ZONE System™ exposure and ARRI false color
Atomos Ninja Ultra 5-inch 4K HDMI Recording Monitor
The new Ninja Ultra gains a ton of new features, enabled by the new AtomOS 11. All designed to make you more productive by taking the friction out of your working day.
Enhance your camera
Ninja Ultra can capture RAW HDMI inputs up to 8K at 30fps and simultaneously output a standard viewable video signal via HDMI for devices that don't support RAW formats. With a versatile 5.2-inch SuperAtom IPS touchscreen for clear images and easy accessibility to the features in AtomOS, Ninja Ultra has a new operating system and user interface.

Frame it Shoot it
Crop it Tweak it Ninja it.
Ninja Ultra includes comprehensive monitoring tools to help you get the perfect composition and exposure in every shot. Easy-to-use but powerful tools include waveform, focus peaking, false color, zoom controls, custom LUTs, and frame guides. Ninja Ultra's new AtomOS 11 software is simple to update with new features and releases as well as support for new cameras.

Any camera, any format. Anywhere.
Pair Ninja Ultra equally well with smaller cameras as part of a minimal setup, or with full-size camera rigs on large-scale productions.

Ninja Ultra is made from precision materials, carefully crafted for maximum durability. Weighing only 360g (0.79lbs), you can use it comfortably with a handheld camera. Ninja Ultra includes anti-rotational ⅜ " 16 mount points on the top and bottom. It ships with a 20" adaptor for easy mounting on industry-standard equipment from a wide range of manufacturers.

Modular. Expandable. Flexible.
Ninja Ultra is built with expansion in mind, with a range of ports for powerful Atomos accessories. Atomos Connect gives you wireless connectivity to the cloud and much more, while AtomX Cast provides multi-cam switching for live events and streaming.

Get more from your video
Ninja supports Log video workflows, capturing original Log footage and applying LUTs so that you can see your results in an accurate, viewable color space. With an HDR, high brightness screen, Ninja gives immediate visual feedback so you can assess your shots on set and adjust and re-shoot if necessary. We support log formats from a wide range of companies. If it's available, Ninja will capture 10-bit 4:2:2 video, maximizing color information and reducing the likelihood of banding when converting to a viewable colorspace.

Other Web
Atomos Ninja Ultra
• Lightweight, tough, and reliable monitor recorder with advanced monitoring and recording features.
• Capture in ProRes RAW up to 8K 30P, 6K 60P & 4K 120P
• Flexible codec choice – ProRes RAW, ProRes, DNxHD & H.265 (HEVC) – all for free.
• Dual RAW record for Camera to Cloud workflows – capture 4Kp60 ProRes RAW & H.265 simultaneously
• SDI Cine's new feature for automated matching filenames, timecode, and record triggers from ARRI, Canon, RED, and Sony SDI cameras
• New AtomOS 11 improves memory management, boosts responsiveness, and unleashes new features
• Publish directly from the cloud with 4K H.265 Camera to Cloud mode
• Faster and stronger connectivity with Wi-Fi 6E
• Share what's on your Atomos screen with other Atomos Connect users, as well as with Shogun Connect, iPads, Macs, and Apple TVs wirelessly in the same premises or anywhere in the world with Atomos RemoteView.
• An additional advanced industry-leading suite of monitoring tools with a one-touch operation like SegmentPro, EL Zone, and ARRI False Color added in combination with other monitoring tools like Vectorscopes, Zebra, Atomos False Color, Onion Skin, etc.
• New monitoring tools to arrange in advance recording and playback with RecordAssist and PlayBackAssist.
• Same form factor as NinjaV, all Accessories are compatible with the new Ninja Series (Ninja & Ninja Ultra)
Physical Specifications

Dimensions (W x H x D mm): 151 x 91.5 x 31mm
Weight: 360g / 12.7oz
Rack height
Mount points: 1 x anti-rotation 1/4-inch / 3/8-inch top and bottom
VESA Mount
Rackmount
Dual Display
Dual Recorder

Environmental

Ambient operating temperature: Up to 40 degrees Celsius
Storage temperature
Relative humidity

Construction & Control

Body: Aluminium with ABS plastic
Cooling: Actively controlled fan and heat sink
Tally light: Rear and front
Control Buttons
Multi-function button: Power/lock screen
AtomXpansion slot: Yes
Master control unit (MCU)

Power

Input voltage: 6.2V to 16.8V
Operating power: 5.8-7.2v (Battery) or min 30W via USB C PD cable
Compatible batteries: NPF L series
Built-in battery: No
Battery voltage
Battery run time Record: 5200mAh – up to 2hrs (monitor & record 4K 60p)
7800mAh – up to 3hrs (monitor & record 4K 60p)
Battery run time Monitor Only
Continuous power
DC in the connector: Via DC jack on battery eliminator
DTAP: Via battery eliminator and optional DTap to DC cable
DC out

Display

Touchscreen: SuperAtom IPS panel (capacitive touch)
Size: 5.2-inch
Resolution: 1920 x 1080
Viewing angle
Screen coating
PPI: 427
Bit depth: 10-bit (8+2 FRC)
Backlight Type: Edge-lit
Brightness (cdm2 / Nits): 1000
Black Level (cdm2 / Nits)
Aspect ratio: 16/9
De-interlace mode
Color Gamut: Rec.709
Calibration support: Atomos Calibrator with Calibrite ColorChecker Display Pro & ColorChecker Display Plus

Color Pipeline

Gamma: Sony SLog / SLog2 / SLog3, Canon CLog / CLog2 / Clog3,
Arri Log CEI160 / LogCEI200 / LogCEI250 / LogCEI320
/ LogCEI400 / LogCEI500 / LogCEI640 / LogCEI800 /
LogCEI1000 / LogCEI1280 / LogCEI1600, Panasonic Vlog,
JVC JLog1, Red LogFilm / Log3G10 / Log3G12, FujiFilm
Flog, PQ (HDR10), HLG, Nikon N-Log
Gamut: Bt2020, DCI P3, PDCI p3 65 Sony SGamut / SGamut3 / SGamut3.cine /
Canon Cinema / DCI P3 / DCI P3+ / BT2020
Panasonic V Gamut
Arri Alexa Wide Gamut
Rec709
JVC LS300
Red DragonColor / DragonColor2 / RedColor2 /
RedColor3 / RedColor4 / RedWideGamut
3D LU+A76T Display: .Cube Format
3D LUT Down Stream: Loop out
3DLUT 50/50: Yes
Monitoring Modes: Native / HLG / PQ / 3D LUT
HDR output Conversion: Log / HDR to HLG / PQ / Dolby Vision

Video Input

HDMI: 1 x HDMI (2.0) 4Kp60
HDMI RAW: Apples ProRes RAW up to 8Kp30 from compatible cameras
SDI: Optional Via Atomos Connect module
SDI RAW: Optional Via Atomos Connect module
RJ45 / Network
Wi-Fi
USB
Bit Depth: 8/10-bit video / RAW up to 16-bit
Video Chroma Subsampling: 4:2:2
HDCP copy protection: Not supported

Metadata

HDMI: RAW – white balance, exposure index, shutter speed/angle, Iris F stop, ISO, gamma, gamut
SDI: File Naming from ARRI, RED, Sony, and Canon cameras
External input
Closed captioning

Video Output

HDMI: 1 x HDMI (2.0) 4Kp60
SDI loop out
SDI Playout
RJ45 / GigE: Optional Via Atomos Connect module
Wi-Fi 6E: Optional Via Atomos Connect module
Multiview
OS overlays
Video Chroma Subsampling: 4:2:2
Bit Depth: 10-bit video
Pattern Generator

Web Streaming

USB UVC: Optional Via Atomos Nexus 4K or AtomX Cast
RJ45 / GigE: Optional Via Atomos Connect module
RTMP / S: Optional Via Atomos Connect module
RTSP
SRT

Video Signal Conversion

HDMI to SDI: Optional Via Atomos Connect module
SDI to HDMI: Optional Via Atomos Connect module

Audio In/Out

Audio Quality: 24/48kHz
Audio Codec: PCM
HDMI : 8ch 24-bit, input dependent
SDI: 12ch 24-bit, input dependent
Analogue Audio in: 3.5mm 2ch.
Analogue Audio Out
Speakers
Headphone out: 3.5mm 2ch.
Audio input delay: User definable from the menu

Timecode / Sync / Control

Embedded: HDMI and SDI
Time of day: Yes, Time and Date
Reference input
LTC: Optional Via Atomos Connect module
Genlock: Optional Via Atomos Connect module
Wireless AirGlu RF Server and Client: Optional Via Atomos Connect module
Wireless AirGlu BT Server: Optional Via Atomos Connect module

Resolution & Frame Rates (Record, Monitor & Playback)

Supported base resolution & FPS
8K: RAW Only up to 30p via HDMI
6K: RAW Only up to 60p via HDMI
5K
4K DCI: 23.98/24/25/29.9/30/50/59.94/60p
4K UHD: 23.98/24/25/29.9/30/50/59.94/60p
2K DCI 2046 x 1080: Optional via AtomX SDI module
Anamorphic: 3.5k: RAW up to 60p (from supported cameras only)
FHD 1920 x 1080 Progressive: 23.98/24/25/29.9/30/50/59.94/60/100/120p
FHD 1920 x 1080 PsF: Converted to P and looped out PsF
FHD 1920 x 1080 Interlaced: 23.98/24/25/29.9/30/50/59.94/60i
1280 x 720p: 50/59.94/60p
SD PAL / NTSC

Recording CODEC

CDNG
Apple ProRes Raw: ProRes RAW, HQ
Apple ProRes: LT, 422, 422HQ
Avid DNxHD: DNxHD 220x,220,145,36
Avid DNxHR: LB, SQ, HQ, HQX.
H.265: LQ,MQ,HQ,XQ in 8/10Bit, 4 2 2 and 4 2 0
H.264

Playback

Playlist: Yes, Create customer playlists from full or sub clips
Loop: Yes, with user customizable in / out markers
CDNG
Apple ProRes Raw: Yes, recorded clips
Apple ProRes: Yes, with Linear PCM audio
Avid DNx: Yes, with Linear PCM audio
H.265: Yes
H.264

Recording functions

Pre-roll record: Yes (HD 8s, 4K 2s) – Not available in RAW
ISO Record
Switched Program Record
Timelapse: Yes
RAW to Video Record
Simultaneous proxy record: Yes
4k to HD

Multi-Input / Switching

SDI A/B toggle
Dual Input display
Multiple SDI input
Multiple HDMI input: Optional via AtomX Cast
Multiview Display: Optional via AtomX Cast
Multiview Output: Optional via AtomX Cast
Picture in Picture (PIP): Optional via AtomX Cast
Picture and Picture (PAP)
Graphic overlays: Optional via AtomX Cast
Media pool storage
Input transitions: Optional via AtomX Cast
Input Resolution Processing
Input Image processing
Keyer

Supported media

Master Caddy I: Not compatible
Master Caddy II: For 2.5-inch hard drives in MasterCaddy II
Master Caddy III: For 2.5-inch hard drives in MasterCaddy III (needed for Atomos Connect)
SSDmini: Native size and fit
CFAST II: With supported cards via optional SSDmini CFAST II Adaptor
SD
USB
Network
File Naming: Unit Name – Scene/Shot/Take
File System: ExFAT

On-screen tools

MultiScope Analysis View
Waveform: Yes, 3 size / Position
Histogram
RGB parade: Yes, 3 size / Position
Vector scope: Yes, 2 size / Position
1 x Zoom: Yes. 1:1 Pixel mapping for 4k
2 x Zoom: Yes
4 x Zoom
Focus peaking: Colour selected / threshold setting/colour/Mono/edges only
Atomos False color: Yes, with Scale
ARRI False color: Yes
EL Zone: Yes
Zebra: Yes, Adjustable
Isolate color channel: Blue Only
Cine Frame Guides: 2.4:1, 2.35:1, 1.9:1, 1.85:1, 4:3
Social Frame guides: 9:16, 1:1, 191:1, 4:5
Onion Skin: Yes
Safe areas: Action and Graphic
Grid markers: 9 grid
Anamorphic de-squeeze: 1.25x, 1.33x, 1.5x, 1.6x, 1.65x, 1.79x, 1.8x, 2x
Display Flip: Vertical Only

Onboard Signal Processing

Pulldown removal: 24/25/30pSF > 24/25/30p (2:2 pulldown)
60i > 24p (3:2 pulldown)
4K UHD downscale for HD: Loop out – 4K UHD to FHD
DCI Crop: Loop out – 17:9 to 16:9 Crop

Remote control

HDMI: Auto HDMI Trigger, Supported Protocols – Canon, Sony,
Atomos Open Standard
SDI: SDI trigger camera selectable with Atomos Connect
Serial 2.5mm Jack: LANC control and calibration via optional USB to serial cable
AirGlu BT: Optional Via Atomos Connect module
AirGlu RF: Optional Via Atomos Connect module
USB
RJ45
RS422

External Device Control

Serial 2.5mm Jack: Camera control for supported cameras via Optional USB to Serial Cable
Bluetooth LE: Optional Via Atomos Connect module
Wireless RF: Optional Via Atomos Connect module
USB
RJ45

Supported Applications

XML: Cut tag EDL in FCPX XML
Apple ProRes Raw: Apple FCPX, Adobe Premiere, After Effects, Avid Media Composer, GrassValley Edius, Assimilate Scratch, Baselight Film Light.
Video Codecs: All Applications with support for Apple ProRes and Avid DNx in. MOV wrapper

Software included
Optional extras: Accessory Kit 5-inch Vers II, Sunhood, DC to DTap, Power kit, HDMI cables, USB to serial cable,

Compatible with
List product

Warranty

Standard: 1 year. Extended to 2 years on product registration. Atomos Care360 available as a subscription

Target use / User

Mirrorless cameras: Y
Compact Cinema: Y
Cinema: Y
Director monitor: Y
Games Capture: Y
Streaming: Y
Mixer/switcher / ProAV: Y
Rack / OB
DIT / Video Village
Pro Video: Y
Gimbal / Crane: Y
Editor / Colourist
Hobbyist: Y
Wedding: Y