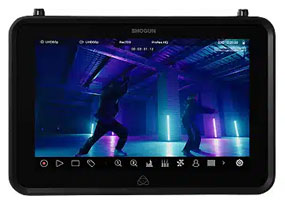 Atomos Shogun 7-inch Touchscreen Monitor Recorder. Perfect for DSLR, Cinematic & Mirrorless Cameras
Product Code: SHOGUN


Features
• Set a time for your Ninja to play out files or sequences
• With EL ZONE System™ exposure and ARRI false color
• Automatically split files when they reach a set size/duration
• Faster, more stable connection to the internet
• Set a time for your recording to start
• Set up time-lapse recording and control it from your Ninja
• Share live views from your screen over the internet
Atomos Shogun 7-inch Recording Monitor

Up to eleven
The original Shogun gave filmmakers what they had been asking for. All the Ninja's talents, with a bigger, 7-inch super-bright screen and both HDMI and SDI I/O. Today's Shogun is bolstered by new abilities from AtomOS 11, massive connectivity from integrated networking, more codecs, and compatibility with almost every camera. Shogun is the Atomos dream writ large.

Super bright screen
Shogun's super-bright, large 7-inch screen is viewable in almost every kind of light. Indoors, outdoors, or anywhere you need critical, viewable, instant feedback on your images. With 2000 nits brightness, it's ideal for checking your HDR footage while you're still on set. Or play back your recently captured shots on the same pristine screen for review or even uploading to the cloud.

Enhance your camera
The new Shogun has an ultra-bright, 7-inch HDR screen that's easily visible outdoors. Capture RAW video from a vast range of DSLR, mirrorless and cinematic cameras with either SDI or HDMI connections. It's packed with on-screen tools for focus, exposure, customer LUTs and metadata. Shogun takes care of your workflow while you focus on creative ideas.

Improve your shots through accurate framing and check your exposure and focus on a clear, bright screen. We work with all popular camera manufacturers to support the widest range of cameras. Not just for recording uncompressed video via HDMI or SDI but working with RAW formats and being able to stop/start trigger the camera's own recording.

Ready to RAW
Shogun can capture RAW inputs up to 6K at 30fps and simultaneously output a standard viewable video signal via HDMI or SDI for devices that don't support RAW formats.

With a versatile 7-inch SuperAtom IPS touchscreen for clear images and easy accessibility to the features in AtomOS, Shogun now has a new operating system and user interface. The screen is designed for outdoor usability, with a generous 2000nits, viewable even in direct sunlight. You can also adjust the screen for optimum performance in dimly lit locations.

A complete monitoring toolbox
Shogun includes comprehensive monitoring tools to help you get the perfect composition and exposure in every shot. Easy-to-use but powerful tools include waveform, focus peaking, multiple false color tools, zoom controls, custom LUTs, and frame guides. Shogun's new AtomOS 11 software is simple to update with new features and releases – as well as support for new cameras.

A highly secure mount
From individuals to large-scale cinema productions, Shogun has been built to fit into any camera rig. It features a versatile mount that can be adapted to suit different industry-standard equipment from a wide range of manufacturers. Once locked in place the mount is highly secure and offers anti-rotation settings, so you can trust Shogun to remain in place at all times.

Connectivity. We've got you covered.
Shogun's comprehensive range of inputs and outputs lets you capture the highest quality video from the widest range of cameras, and connects you to the cloud, for new, ultra-speedy and productive workflows.

Other Web
Atomos Shogun
• Brand New OS: New AtomOS 11 – faster, cleaner, with more features
• 4K H.265 Recording: Record & upload high bitrate 4K files to the Cloud.
• RecordAssist: Set a time for your recording to start.
• TimeLapse: Set up time-lapse recording and control it from your Shogun.
• More Codecs Included: 6K ProRes RAW, ProRes, DNxHD & H.265 – all for free.
• Improved Monitoring: With EL ZONE System exposure and ARRI false color.
• PlaybackAssist: Set a time for your Shogun 
to play out files or sequences.
• Segment Pro: Automatically split files when they reach a set size/duration.
• Wi-Fi 6: Fast, stable connection 
to the internet.