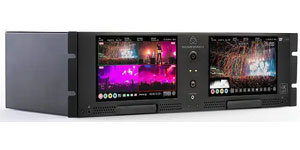 Atomos Shogun Studio II Rackmount 4K Dual Recorder and Monitor


Atomos HDR dual monitor, 8-channel HDp60 / 2-channel 4Kp60 rackmount recorder
The flexible new Shogun Studio 2 takes state of the art Atomos multi-channel recording technology and combines it with two premium 7-inch HDR 2000nit high bright touchscreen displays, all in a single 3RU unit. Its unique combination of features makes it perfect for live events, outside broadcast vehicles, production galleries and MCRs, post production facilities, video wall playout, on-set DITs and sports officiating. Connect to practically any SDI or HDMI source including camera channels, PTZ cameras and vision mixers.

Record multiple formats
The Shogun Studio 2 records either two channels of 4Kp60, or up to eight HDp60 sources in industry standard Apple ProRes, ProRes RAW and AVID DNx codecs. Free your workflow from the constraints of highly compressed GOP based codecs and their associated artifacts. Replace them with clean images captured direct from the sensors of your camera channels using modern Intra-frame codecs.

Both ProRes and DNx are robust, easy to edit, color accurate production codecs used throughout the industry. You can even take this one step further and record ProRes RAW from a wide range of cinema cameras for maximum fidelity.

Playback and Edit
Review or play out your footage directly on the Shogun Studio 2 using the innovative touchscreen controls. Playback and play out up to 4Kp60 video, or 2K/HD high frame rate footage slowed down in the unit itself. Playlists can be created from clips either recorded on an Atomos recorder, or from your edit system in a supported codec, resolution and frame rate.

Advanced record modes
The Shogun Studio 2 offers Pre Roll recording with a 8 second cache in HD, or 2-3 seconds in 4K, to make sure you never miss the action. It also offers Multi Camera ISO recording and Switching of up to 8 SDI inputs from cameras at up to 1080 p60. Each bank of 4 inputs also benefits from a switched output allowing you to have two video switched.

Master your rack with Shogun Studio 2
The Shogun Studio 2 only takes 3RU of space and has a short rack depth making it perfect for use in monitor bridges or in small mobile broadcast vehicles. Redundant dual power supplies balance the power load. The rear of the Shogun Studio 2 provides grouped connectivity for each of the recorder channels with 12G, 6G, 3G (single, Dual, Quad) and 1.5B SDI I/O, HDMI with support for both the inputs and outputs, plus XLR audio I/O, Genlock and LTC input and loop through.

Other Web
Atomos Shogun Studio 2
• 1x Shogun Studio II unit
• 2x Rack ears with screws
• 5x Master II Caddies
• 4x Rubber feet with screws
• 2x IEC power cable
• 2x HDMI cable
• 1x USB-C Dock
• 1x Quick Start Guide