Yamaha PM5D-RH Digital Mixing Console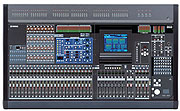 Product Code: PM5DRH

A Choice of Head Amps: PM5D or PM5D-RH
The basic PM5D and PM5D-RH consoles differ only in input functionality. The PM5D features standard high-performance head amps, while the PM5D-RH adds head-amp recall capability that allows head amp gain settings to be recalled along with the other console scene data.
Versatile Configuration with Flexible I/O Patching Capability
In a surprisingly compact frame that weighs only around 100 kilograms, the PM5D offers 48 mono and 4 stereo inputs, 24 mix buses and 2 stereo outputs, and 8 matrix outputs (expandable). The mix buses can be switched to "variable" mode for use as auxiliary buses, or to "fix" mode for pre- or post-pan group bus operation. A full complement of physical I/O connectors provides further patching capability and broad system compatibility. While internal digital I/O patching offers extraordinary signal-routing control when needed, the PM5D has dedicated connectors for straightforward connection without the need for patching, in much the same way that you'd set up a conventional analog console. But you can bring the power of digital patching into play whenever you need to specify insert points, direct outs, metering points, dynamic processor key-in points.a vast range of patching capabilities that simply would not have been possible in the analog domain.
PM5D-EX Expanded Digital Mixing System for Double I/O Capacity and Processing Power
If the capacity provided by the PM5D console alone doesn't meet your requirements, the PM5D-EX system might be just what you need. This powerful live sound and recording package combines a Yamaha PM5D Digital Mixing Console with a DSP5D Digital Mixing System, giving you the I/O and processing capacity of two PM5D consoles controlled from a single control surface: that's a total of 96 mono and 8 stereo input channels in a very flexible, powerful configuration. After a few simple connections the DSP5D becomes an integral part of the PM5D console, and can be controlled from the PM5D control surface in the same way as the internal functions. So although you have 96 microphone inputs and 48 omni outputs (24 mix buses and 16 matrix buses) as well as doubled processing power, you can simply plug in your sources and output devices and mix right away without having to work through another learning curve. The PM5D-EX system is available with the either the PM5D or PM5D-RH console.
Open Architecture for Flexible Live Sound and Recording
Both the PM5D console and DSP5D digital mixing system feature expansion slots that accept a wide range of Yamaha MY cards as well as cards from other manufacturers. Four slots on the PM5D and two on the DSP5D allow not only I/O expansion in a variety of analog and digital audio formats, but also digital networking via CobraNet and EtherSound protocol. This type of expandability further enhances the system's utility for live recording applications because you have a choice of formats you can use to feed stereo or multi-channel audio to a DAW.
Virtual Soundcheck Capability
Here's a perfect example of a feature that has been implemented in response to feedback from the field. A live recording made during a rehearsal or performance can be temporarily patched into the currently recalled scene without permanently affecting the patch configuration stored with that scene. Pre-recorded material can thus be used for setup and detailed adjustment when musicians or performers aren't available. A simple click is all you need to switch from mic sources to playback tracks, or a combination of both. And because Virtual Soundcheck is isolated from scene control you can recall, edit, and resave scenes in Virtual Soundcheck mode without fear of actually storing patch changes. Unlike similar features found in other consoles, the PM5D lets you assign individual channels to the Virtual Soundcheck function as required, so you can keep sound effect or BGM channels alive while doing a sound check.
96-kHz Processing for Superior Sound and Response
The PM5D employs the custom "DSP7" LSI for ultra-high-speed 96-kHz/32-bit processing (24-bit AD/DA, 58-bit accumulator at the EQ stage). Double-rate processing halves the AD/DA latency, and allows reproduction above 20 kHz for maximum openness and "air", as well as outstanding transient response. Like the acclaimed DM2000 and 02R96 digital production consoles, none of the PM5D's functionality is compromised when running at the full 96-kHz rate. Even the high-capacity PM5D-EX system delivers the same top-quality 96 kHz processing throughout for outstanding sound and response, making it a perfect choice for critical live recording applications.

Advanced Analog Circuitry, Including Top-quality Head Amps
Analog audio circuits are never actually "finished". Each new design, or even a change in layout, means the circuit and components must be retuned for optimum reproduction accuracy, signal-to-noise ratio, and crosstalk. Although most of the signal processing in a digital mixer occurs in the digital domain where the sound itself is really the only concern, some analog circuitry must remain and paradoxically, as Yamaha designers have learned, takes on even greater importance. The head amps are particularly important. For this reason Yamaha head amps are created with the utmost care and attention, resulting in unmatched sonic performance. The renowned Yamaha PM sound lives on in digital consoles.
Outline

PM5D-RH

Mixing capability
Mixing channels
48 Mono + 4 Stereo
GROUP
24 Mix (Group/AUX) busses
AUX
24 Mix (Group/AUX) busses
MAIN
Stereo A, Stereo B
MATRIX
8
DCA/VCA
8 (Output grouping also available at Group 7 and 8)
Input channel functions
Delay, HPF, Attenuator, 4-band PEQ, 2x Dynamics
Output channel functions
8-band PEQ, Dynamics
On-board processors
8x SPX multi effectors, 12x 31-band GEQ
I/O
Mic inputs
48 (Recallable)
Phantom power
+48V DC; ON/OFF per channel
Line inputs
4x Stereo (Compliant with mic input), 2x 2tr in
AD converter
24-bit; 128-time over sampling
Line outputs
36 Omni output, Monitor out and Cue output
DA converter
24-bit; 128-time over sampling
Digital I/O
3x 2tr in/out, Cascade in/out
Expansion slots
4x Mini-YGDAI (16-in/16-out)
Control and others
To Host(USB), GPI, HA remote, RS422 remote, Time code in, Word clock I/O, 3x Lamp, PCMCIA slot
General specifications
Internal processing
32bit, Accumulator: 58bit
Sampling frequency rate
Internal
44.1kHz, 48kHz, 88.2kHz, 96kHz
External
44.1kHz/88.2kHz (-10%) - 48kHz/96kHz (+6%)
Signal delay
Less than 2.5ms (@48kHz), Less than 1.25ms (@96kHz)
Total harmonic distortion
Less than 0.05% (20Hz-40kHz)
Frequency response
0, +0.5, -1.5dB 20Hz-40kHz
Dynamic range
DA: 110dB; AD+DA: 108dB
Hum & noise level
Equivalent input noise
-128dBu
Residual output noise
-86dBu
Crosstalk
-80 dB
Power requirements
Use PW800W
Power consumption
660W (when use with PW800W)
Dimensions
W
1551mm; 61-1/16in
H
283mm; 11-1/8in
D
950mm; 37-3/8in
Net weight
97kg; 213.8lb
Accessories
Owner's manual, 3x Gooseneck lamp, DC power cable