Yamaha LS9-16 Digital Mixer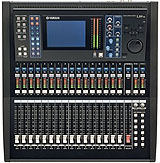 Product Code: LS916

Lightweight, compact digital mixers with advanced features and outstanding sound quality.

• 16 mono mic/line input and 4 stereo input channels,expandable up to 32 channels in two layers.
• 16 mix buses, 8 matrix buses, plus stereo and mono buses with LCR mode.
• Compact and light enough for one person to move and set up easily.(12.0 kg)
• Virtual Rack packed with effects and EQ for just about any processing requirements.

The Yamaha LS9-16 consoles follow in the distinguished footsteps of the Yamaha PM1D, PM5D, and M7CL, expanding Yamaha's digital mixing console lineup for live sound and installations. The Yamaha LS9-16 consists of the 32-mic/line input 64-channel LS9-32, and the 16-mic/line input 32 channel LS9-16. While being compact and light enough for one person to move and set up easily, both models include features that have been field-proven in previous Yamaha digital consoles as well as outstanding sonic quality.

In addition to an extensive range of gating, compression, and equalization capabilities, there's also a built-in USB memory recorder/player for recording or BGM playback, and other functionality that give you everything you need for small to medium scale live sound or installed applications in remarkably compact, all-in-one consoles.
Compact and Lightweight
The Yamaha LS9-16 32-channel LS9-16 with 16 mic/line inputs weighs just 12 kilograms, while the 64-channel LS9-32 with 32 mic/line inputs tips the scales at 19.4 kilograms. Both versions offer vast potential for temporary setups at small to mid-size concerts and events, as well as for permanent installation in a variety of venues and facilities. The Yamaha LS9-32 offers higher input capacity and plenty of mix buses that will easily handle even complex sound reinforcement jobs, while the portability and manageability of the LS9-16 make it ideal for smaller events and live performances.
Ample Bus Capacity: 16 MIX, 8 MATRIX, and STEREO
The Yamaha LS9-16 features 16 MIX buses that can be used in either AUX (VARI) or GROUP (FIXED) mode, plus 8 MATRIX buses. The LS9-32 has 16 analog OMNI OUT connectors, while the LS9-16 has 8 OMNI OUT connectors. Any of the STEREO, MIX, and/or MATRIX buses can be assigned to the OMNI OUT connectors as required. Two Mini-YGDAI card slots in the LS9-32 and one in the LS9-16 additionally make it possible to expand audio input/output capacity or add processing functions via the MY8-LAKE or Dugan-MY16 cards.

In addition to 4-band parametric EQ and two dynamics processors on every input, 4-band parametric EQ and one dynamics processor on every output bus offer significantly enhances sound control versatility.
Virtual Rack with Top-quality Effects
There's no need for external effect racks with an LS9 console, both models provide a Virtual Rack that's packled with a complete range of effects that will cover just about any processing requirements. Up to 4 multi-effect processors can be used simultaneously, and you can use as many as 8 graphic equalizers. The internal effect library offers 48 preset effects ... including the acclaimed REV-X reverb effects. In addition to the standard 31-band single-channel GEQ units, you also have 2-channel Flex15GEQ units that allow up to 16 15-point GEQ units to be used simultaneously. Both GEQ types allow convenient band adjustment via the console faders, and the channel ON keys can be used to instantly reset the corresponding band to zero boost/cut.
Intuitive Interface
Yamaha's popular Selected Channel interface allows smooth, intuitive access to the more detailed channel functions via a color LCD display and an array of logically arranged encoders. And no matter what display is showing, you can instantly return to the main display by simply pressing the HOME key. This interface has been refined and proven over many generations of Yamaha digital mixing consoles.
Recall Safe and Recall Focus...Right Down to Head Amp Gain
The Yamaha LS9-16 scene memory allows instant store and recall of all console parameters, including head amp gain. The Recall Safe function can be used to exclude specified channels from scene recall operations, making it possible to leave sound effect or MC channels unaffected by scene recall, for example. There's also the Recall Focus function that makes it possible to specify which function group will be affected by scene recall: head amp, virtual rack, input patch, output patch, input channel, or output channel.
USB Memory Recording and Playback
The Yamaha LS9-16 includes a two-track audio recorder/player that uses a standard USB memory. That means you don't need any extra equipment to record live or play BGM or sound effects. Record MP3 files at 96 128, or 192 kbps, or play MP3, AAC, or WMA files at bit rates from 64 to 320 kbps. 44.1 kHz and 48 kHz sampling rates are supported. Transfer a freshly recorded live performance from the USB memory to a computer and broadcast via the Internet in a matter of minutes!
LS9 Editor
Yamaha LS9-16 Editor is a freeware application that allows parameter viewing and control via a computer. When connected to the console and used online it provides comprehensive metering as well as real-time display of selected channel status. Offline you can edit and manage scene data, patch lists, and other functions for a significant boost in control and work efficiency. And where a rental or installed console must be used, you can simply save your settings to a USB memory and load them into the console when needed. LS9 Editor is a great way to manage backups too.
Outline
LS9-16
Mixing capability
Mixing channels
32 Mono + 4 Stereo
GROUP
16 MIX (Group/AUX) busses
AUX
16 MIX (Group/AUX) busses
MAIN
Stereo, Mono
MATRIX
8
Input channel functions
HPF, Attenuator, 4-band PEQ, 2x Dynamics, Pan (LR or LCR with CSR)
Output channel functions
Attenuator, 4-band PEQ, Dynamics
On-board processors
4x GEQ, 4x GEQ/SPX (GEQ: 31-band or 2x Flex15), 50x Output port delay
I/O
Mic inputs
16 (Recallable)
Phantom power
+48V DC; ON/OFF per channel
AD converter
24-bit; 128-time over sampling
Line outputs
8 Omni output
DA converter
24-bit; 128-time over sampling
Digital I/O
2tr in/out, USB Memory Recorder/Player
Expansion slots
Mini-YGDAI (16-in/16-out); Possible to remote HA gain via slot
Control and others
Ethernet, MIDI, USB (Storage/Key), Word clock I/O
General specifications
Internal processing
32bit, Accumulator: 58bit
Sampling frequency rate
Internal
44.1kHz, 48kHz
External
44.1 kHz (-10%) to 48 kHz (+6%)
Signal delay
Less than 2.5 ms (@48kHz)
Total harmonic distortion
Less than 0.05% (20Hz-20kHz)
Frequency response
0, +0.5, -1.5dB 20Hz-20kHz
Dynamic range
DA: 110dB; AD+DA: 108dB
Hum & noise level
Equivalent input noise
-128dBu
Residual output noise
-86dBu
Crosstalk
-80 dB Adjacent Input Channels, Input to Output
Power requirements
AC100-240V 50/60Hz
Power consumption
95W
Dimensions
W
480mm; 18-7/8in
H
220mm; 8-11/16in
D
500mm; 19-11/16in
Net weight
12.0kg; 26.5lbs
Accessories
Owner's Manual, AC Power Cord