Yamaha IMX644 Digital Installation Mixer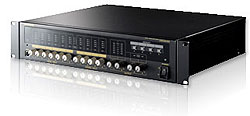 Product Code: IMX644
Discontinued
The IMX644 digital mixer is ideally suited for permanent installations. In a compact 2U rack mount unit it offers multiple mono and stereo analog inputs and outputs as well as digital inputs that allow flexible integration in a wide range of audio systems. In addition to detailed setup and control from a computer running the dedicated IMX644 Manager application, easy front-panel control of basic functions and memory recall capability allow effective, error-free operation by users who have no specialized knowledge or experience.
• Comprehensive I/O in a Compact 2U Unit
With six mono analog inputs, four stereo analog inputs, and two stereo analog outputs plus a dedicated stereo output for recording, the IMX644 offers an ideal I/O configuration for small to medium size installations.

• Easy Panel Operation and Memory Recall
The front panel features input and output level controls as well as four buttons for memory recall. These controls allow users who do not have any specialized knowledge to easily operate the mixer's main functions. The internal memory can store up to 16 mixer setups, four of which can be recalled directly from the front panel. Memory recall is particularly useful in general facilities such as event spaces and banquet halls where it allows appropriate settings for specific situations to be recalled in an instant.

• Feedback Suppression on All Six Mono Inputs
Since the most likely sources for the mono inputs will be microphones, feedback suppression is provided on all six mono inputs. Both pre-settable filters and automatic detection systems are implemented for effective prevention of feedback under widely varying acoustic conditions.

• Optical Digital Inputs for Direct Connection to Digital Sources
CD players, DVD players, and other audio sources that have optical digital outputs can be directly connected to the IMX644. Built-in sample rate conversion eliminates the need for word clock settings or synchronization.

• Auto-ducking Gives Priority to Announcements
This feature automatically reduces the volume of the background music or other program material when input is applied to a specified channel. Auto-ducking is effective for a range of situations, from announcements to emergency broadcasts.

• Precision Delays for Time Alignment
In large spaces where distances between speakers can cause the sound image to become "smeared" and indistinct, the IMX644 allows precise delays to be added to individual outputs to achieve tight focus and maximum sonic clarity throughout the listening area.

• Dedicated "IMX644 Manager" Software Application
All mix parameters other than input and output levels can be controlled and set in detail via the IMX644 Manager application running on a compatible computer. The application's intuitive graphical interface makes setup and editing easy.

• External Touch Panel and Controller Support
In addition to an RS232C connector for compatibility with AMX, Crestron, and similar external control devices, the IMX644 has a GPI interface that allows memory recall from external devices. This type of control flexibility makes the IMX644 an excellent choice for an extremely broad spectrum of pro audio installations and applications.
Outline
IMX644
Mixing capability
Mixing channels
6 Mono + 4 Stereo
MAIN
2x Stereo, 2x Mono
Input channel functions
Mono channel: 3-band PEQ, Feadback Suppressor; Stereo channel: 2-band PEQ
Output channel functions
6-band PEQ, Delay
On-board processors
Priority ducking, Music override
I/O
Mic inputs
6
Phantom power
+48V DC; ON/OFF: per channel
Line inputs
4x Stereo
AD converter
24-bit; 64-time over sampling
Line outputs
6x Bus output, Rec out
DA converter
24-bit; 128-time over sampling
Digital I/O
Optical I/O with SRC
Control and others
USB, Remote, GPI
General specifications
Sampling frequency rate
Internal
48kHz
Signal delay
Less than 2.5ms
Total harmonic distortion
Less than 0.1%
Frequency response
0, +0.5, -1.5dB; 20Hz-20kHz
Hum & noise level
Equivalent input noise
-120dBu
Residual output noise
-82dBu
Crosstalk
Less than -70dB
Heat dissipation
18.06kcal/h
Power requirements
100-240V; 50/60Hz
Power consumption
21W
Dimensions
W
480mm; 18-7/8in
H
88mm; 3-7/16in
D
366.9mm; 14-7/16in
Net weight
5.4kg; 11.9bs
Accessories
Owner's Manual, AC power cord, 4x Rubber feet, 12x 3-pin Euroblock plug