Professional Isolation for Stereo
Rycote is proud to offer the iconic, professional-standard Windshield and Shock Mount system specifically engineered for stereo microphone configurations. With variable levels of wind protection and maximum shock isolation, these systems are designed for precision microphone placement. In addition to single-point stereo microphones, we have models specifically designed for use with pencil, shotgun, and compact microphones in MS, XY or ORTF configurations. Available in complete, comprehensive kits, Stereo Windshield system can also be purchased separately.

Stereo Windshield Kits
Stereo Windshields are available in complete kit configurations to accommodate single shank microphones stereo microphones, stereo pair and MS configurations. Each kit includes shock mounts and varying degrees of windshielding.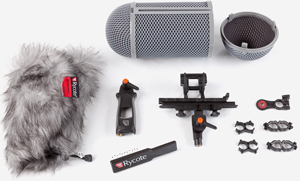 Stereo Windshield
The Stereo Windshield is a lightweight, durable basket made from flexible grey plastic netting with a screening material attached. Designed for use with the various suspensions, this system provides excellent wind-noise reduction of up to 30dB with minimal High-Frequency loss.

A Stereo Windshield is comprised of:
A Windshield body and an end cap. The twist and turn locking end cap provide easy, secure and rattle-free on both ends of the windshield. The end cap can be removed facilitating easy placement of the microphone inside the basket. XLR-5F versions of Modular Windshield Kit 3, 4, 5, and 6 used for single-shank stereo microphones have two removable end caps. Extension pieces may purchased and used with these models to accommodate longer microphones.