The Legendary Wide-angle Lens with Close-focus Capability
This wide-angle lens is the most advanced version of the legendary
Distagon, a high performance lens with close focus capabilities,
that was fi rst introduced in 1961. The Distagon T* 2,8/25 is a
recalculation of this design for use with modern SLRs and DSLRs using
either full-frame or smaller sensors. The close-focus capability increases
the versatility of this lens, providing a wider perspective than the
usual macro focal lengths. Combined with a digital SLR with a 1.5 crop
factor, the lens has an effective focal length of 38 mm and becomes
a moderate wide-angle lens. The Distagon T* 2,8/25 is available with
the F bayonet (ZF), K bayonet (ZK) and M42 (ZS) lens mounts and is
ideally suited for nature and landscape photography or for any situation
requiring a wider perspective.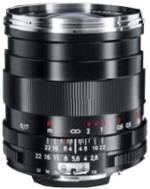 (Discontinued)